Now that you have signed up to Betkeen, it is time to get to know the site and its features.
Logging in
You can log in via the Betkeen website .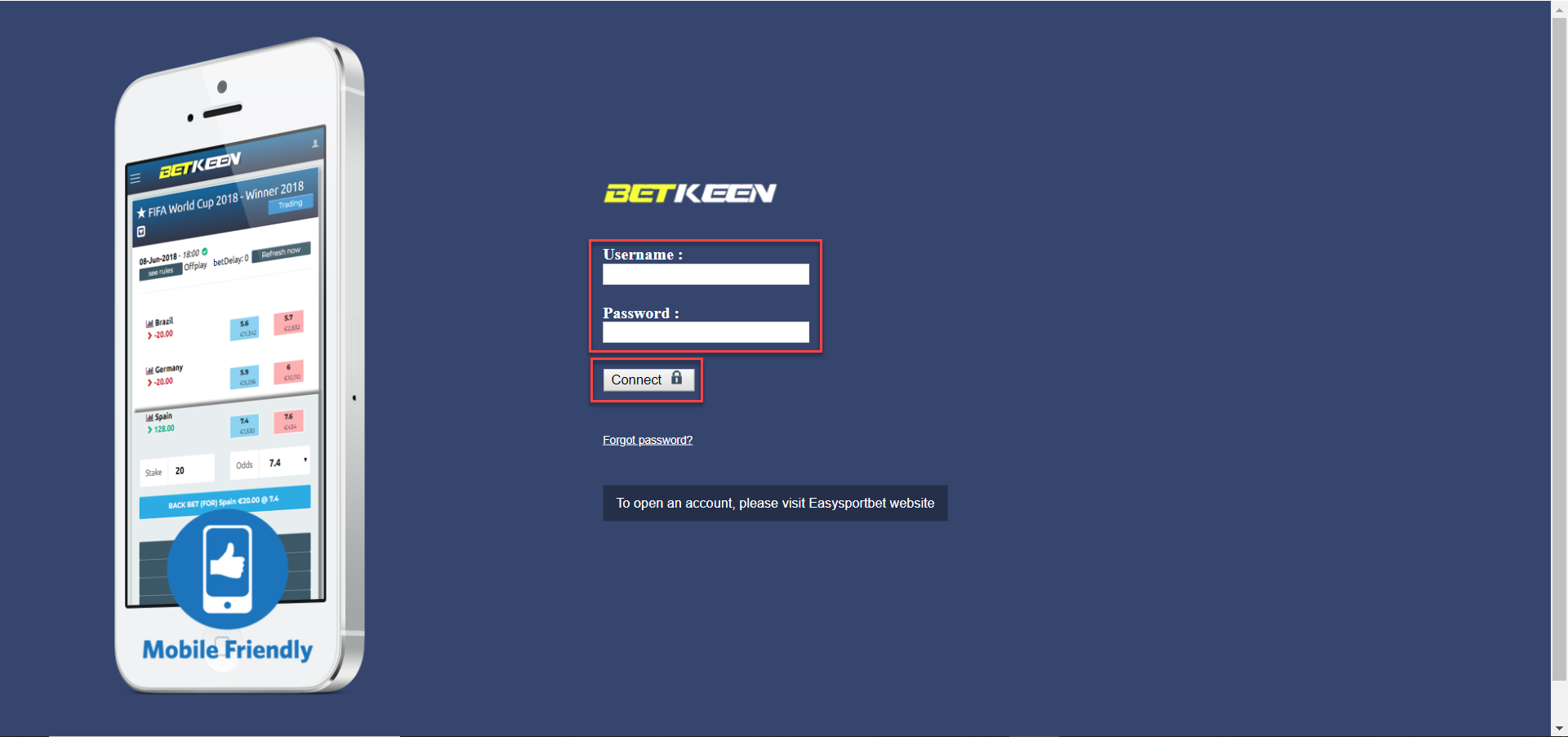 Or the link from your Easysportbet account.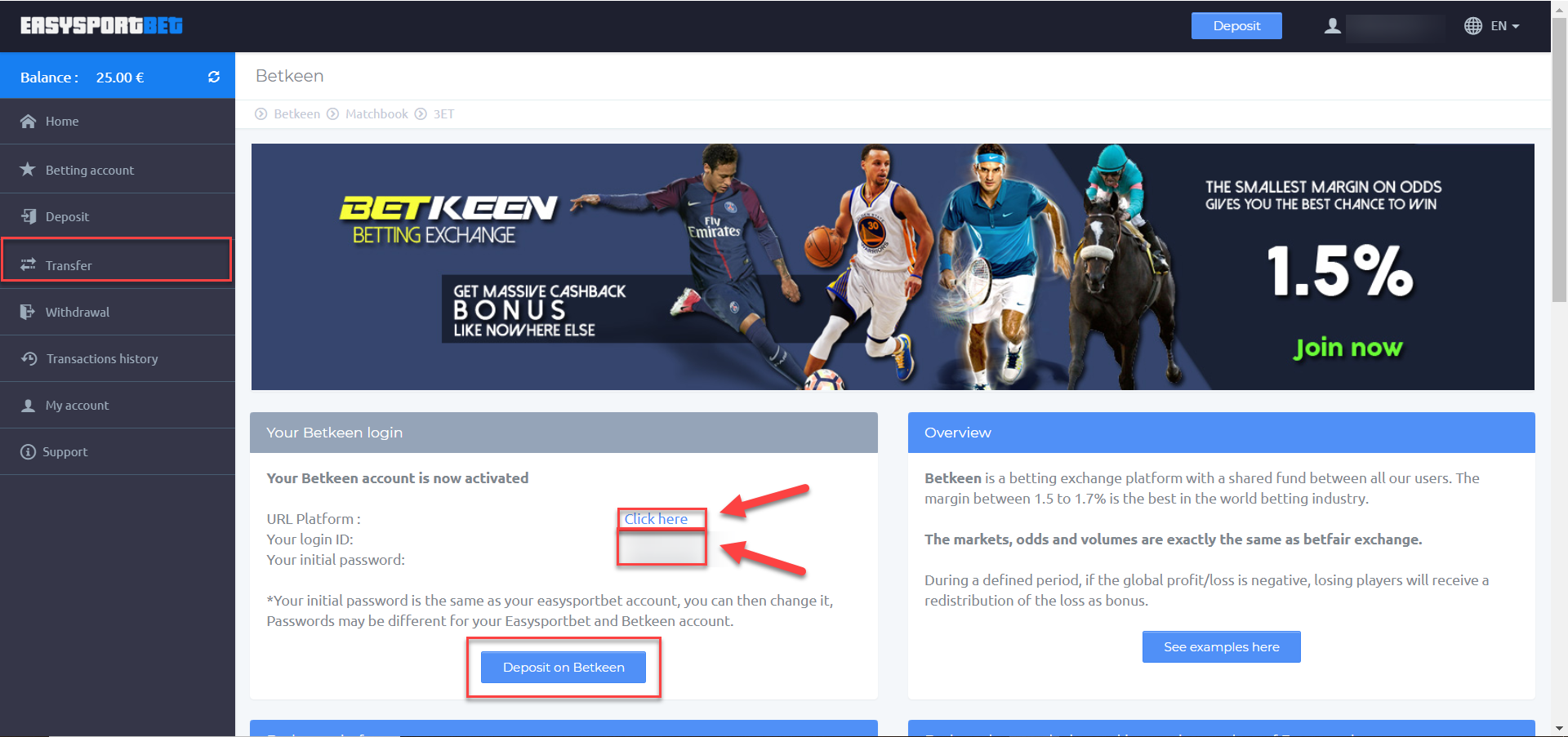 First look
Here is the first page you will see when you log into your Betkeen account.
Below is a brief run-through of the main features.
1The money available in your account. I have hidden mine for privacy reasons but you will be able to see your funds.
2Here you can see your account details, change your password etc.
3Need help? You can contact Betkeen using different methods like email, Facebook Messenger and Skype.
4The very useful search function. This is my favourite way to find the games I want to bet on.
5In the menu on the left side of the screen, you can search manually for the game of your choice.
6Major events will be featured in this section and this is a quick way to find a game.
Account information
Under My Account you can find everything related to your account and bets.
Here are some useful features.
All my bets: A list of all the bets you have placed including stake, odds, and whether your bet won or lost.
Transaction history: Here you can see all the deposits and withdrawals you have made.
Overall Betkeen result: In this section you can see the result from the Betkeen shared funds scheme. This will be explained further below.
Finding your bet
Method 1
My favourite way to find the game I am looking for is by using the search function in the top left part of your screen.
In this search I am looking for the Borussia Dortmund game and for match odds. I've typed in dortmund and I am presented with a list of games featuring Borussia Dortmund.
If there are too many results, I can narrow the search to e.g. match odds.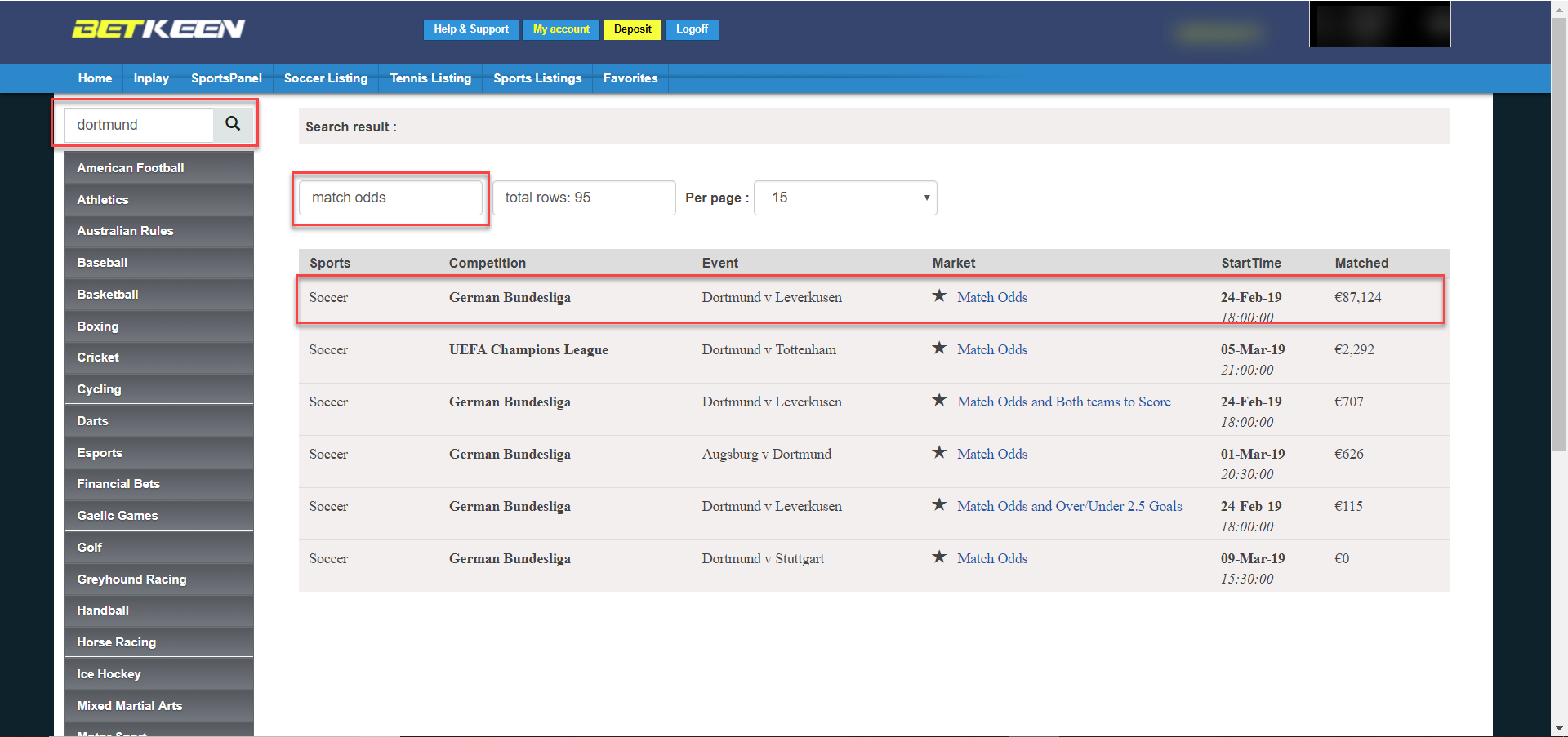 Method 2
The second method to find the game you are looking for is to go via the menu on the left-hand side of the screen. You can for example go to soccer and then choose Champions League if you are searching for a Champions League game.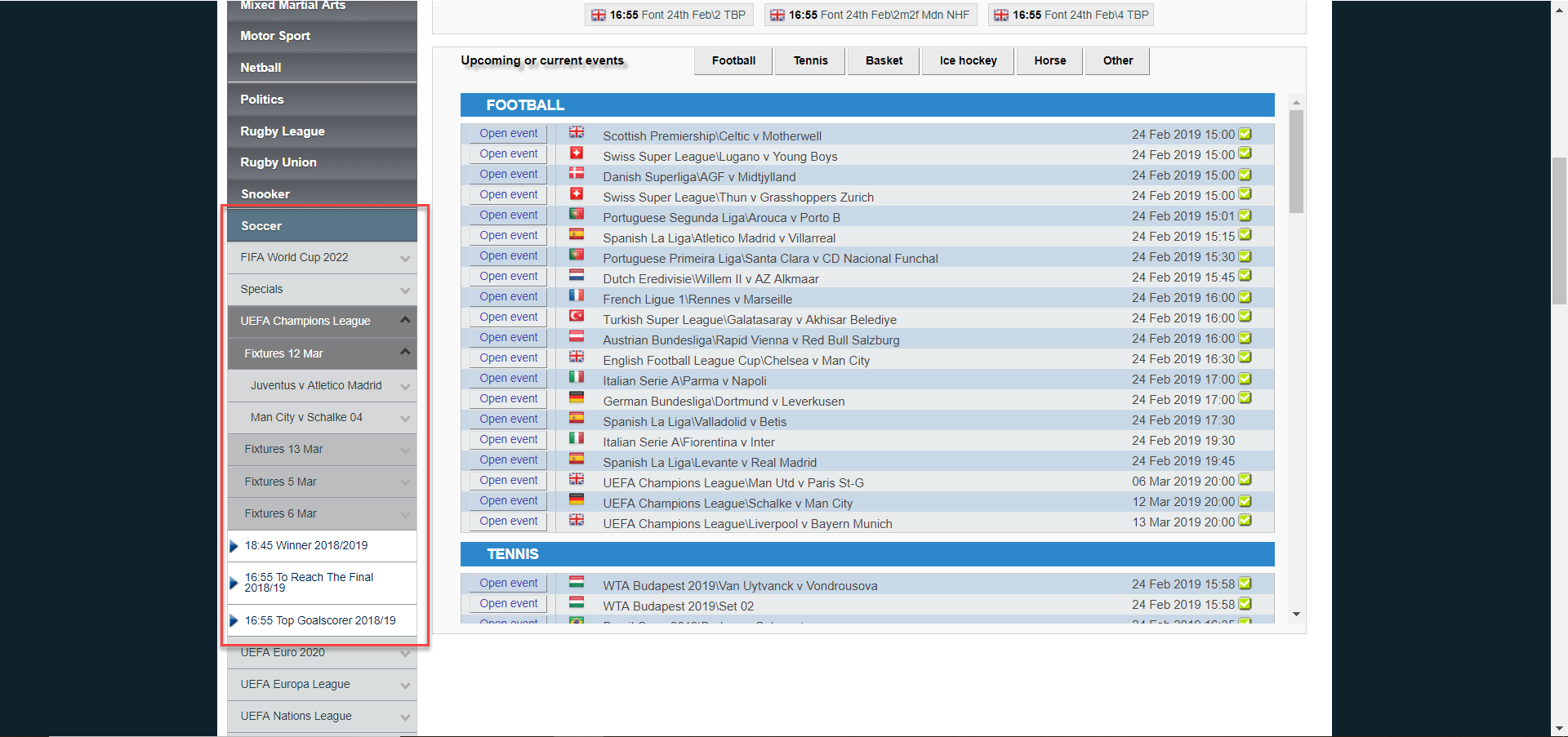 Placing your bet
When you have found the game you were searching for it is time to place the lay bet.
1Remember that the lay odds are always coloured pink. The back odds are blue.
2In this example I want to lay Dortmund. So I look at the line with Dortmund.
3In the betslip you can see all the information about the bet you are about to place.
4The bet type, which in this example is a lay bet.
5The selection. In this example Dortmund.
61The lay odds.
7The bet stake.
8Here you can see the profit if the bet wins and the liability if it loses. In this example the liability is €10,36.
9Once you are ready you can click here to place the bet.
Use Betfair in the Oddsmatcher
Betkeen is a Betfair white label betting exchange which means it is a clone of Betfair with the same odds and liquidity. Update: Please note that the Betkeen lay odds have been consistently higher than the Betfair odds recently.
The good news is that this means you can just use Betfair when you search in the Oddsmatcher.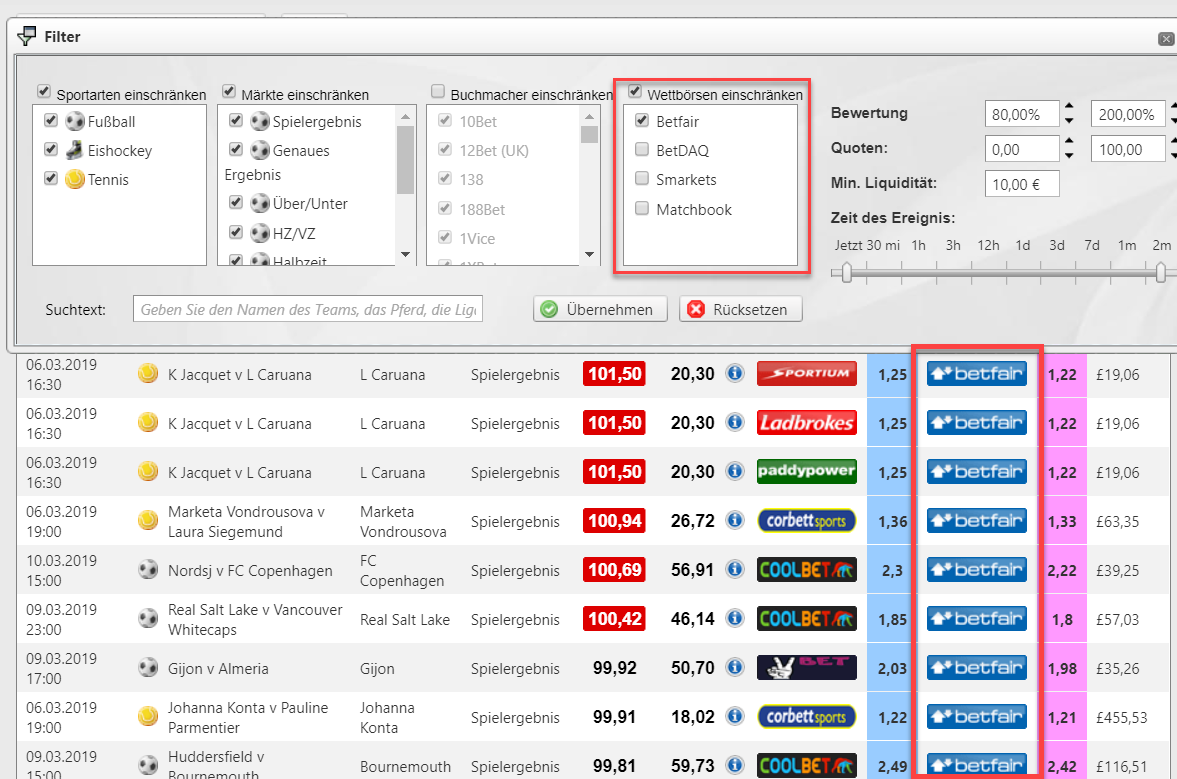 Betkeen commission
The commission is 1,5% per bet in "Gambling" mode, or 1,7% per market in "Trading" mode.
You will be using the "Gambling" mode.
Gambling mode :
In gambling mode, the commission percentage is applied on every bet placed with Betkeen, regardless of whether it is winning or losing.
Every bet placed on a given market is independent. Therefore, the commission is applied on each order and not on gross earnings obtained in a single market, unlike in trading mode.
Trading mode :
In trading mode, the commission percentage is applied only on your gross profit/loss obtained on one market. Unlike in gambling mode, no commission per bet will be deducted.
Betkeen commission and the Oddsmatcher
In the Oddsmatcher the Betfair commission is calculated on winning bets only.
Hence, we recommend that you manually adjust the Betfair commission to 3% to ensure a more correct commission calculation.
Withdrawal
If you wish to make a withdrawal, you first have to go to my account and transfer the money back into your Easysportbet account.
From your Easysportbet account you can request a withdrawal from the menu on the left hand-side of the screen.
Betkeen shared funds scheme
The Betkeen shared funds scheme is a unique feature and a good way to potentially earn a bit of extra cash.
No action is required as every Betkeen user is automatically participating in this obligatory scheme.
Here is how the scheme works.
Every week Betkeen calculate the total losses or winnings of all registered customers.
Global loss
In a week where the global profit/loss is negative i.e. Betkeen customers have lost more than they have won in total, part of the Betkeen profit will be redistributed to customers that have a negative balance for that week. Customers with a positive balance will not be affected.
In a week where Betkeen make a profit but you have made a loss, Betkeen will add some money to your account.
Remember if you have made a loss in a week with Betkeen then you will have made a profit in your bookmaker accounts.
Global profit 
In a week where the global profit/loss is positive i.e. Betkeen customers have won more than they have lost in total, Betkeen will absorb some of the profit from customers that have a positive balance for that week. Customers with a negative balance will not be affected.
You can check the global profit/loss under "My account".
At the time of writing this guide, Betkeen customers have had money back every week for 72 weeks in a row.