What is Dutching?
Dutching is another risk-free technique for Matched Bettors.
When using the dutching technique, we bet on all outcomes of an event with different bookmakers rather than using a betting exchange.
Much like an arb, dutching becomes possible when a bookmaker has higher odds on a particular outcome of an event, when compared to other bookmakers (and not the Betting Exchange). When this happens, we can simply bet on all outcomes and ensure a profit.
An example from a tennis match is shown below.

The rating in red indicates that this is a profitable dutching opportunity and for every €100 staked you can expect a profit of 2,86% or €2,86.
However, we do not just place a €50 bet on each outcome.
We use the DoppelWetten Dutch Matcher to calculate exactly what we need to stake on each outcome. This ensures the shown profit regardless of the outcome of the tennis match.
Below is the calculation from the DoppelWetten Dutch Matcher. You can find the Dutch Matcher under Tools, and here is a step-by-step guide on how to use it.

The odds for player 1 are 1,80, so if we staked €57,14 we would get €102,85.
The odds for player 2 are 2,40, so if we staked 42,86 we would get €102,86 back.
This means that regardless of with player wins the match, we will make €2,85.
How to find Dutching opportunities?
The easiest way to find dutching opportunities is by using the DoppelWetten Dutch Matcher.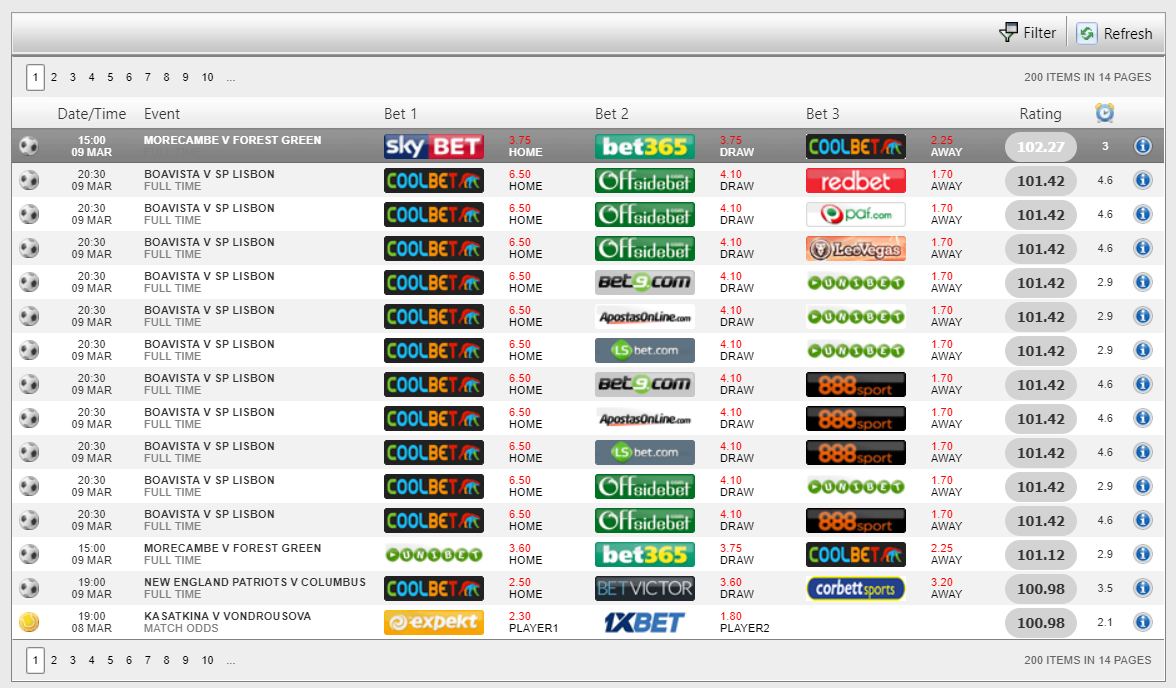 Here you can filter the search and the layout of the Dutch Matcher is similar to the Oddsmatcher.
You open the calculation by clicking on the little i to the right of the screen.
Is dutching the same as arbing?
Arbing and dutching is, by far and large, the same thing.
The only difference is that when arbing you lay at the betting exchange but when dutching you place multiple back bets with different bookmakers.
Hence, you should take the same precautions whether you place an arb or dutch on all outcomes.
You can read more on precaution methods below.
Why Would We Use The Dutching Method
Dutching can have a few benefits compared to arbing or placing normal qualifying bets.
These benefits include:
You can reduce your qualifying losses. If there is an offer on at more than one bookmaker you may be able to dutch and qualify for several offers at the same time
You could complete the wagering requirement on several offers by dutching. Alternatively, you can complete the wagering requirement on one offer while placing a qualifying bet on another offer.
Mind the (odds) gap, please
Although dutching is a risk free Matched Betting technique and can help boost your monthly profits, it is important to know the associated risks.
Bookmakers do not like punters who dutch and are quick to gub or stake-restrict accounts that dutch too much. It is important to keep in mind that gubbed accounts rarely get un-gubbed. So, you should always consider if the short-term gain is worth a gubbed account.
Bookmakers are constantly monitoring the odds markets and they will know if you are dutching. So, if you normally place €20 bets and then suddenly place a €100 bet on a dutch on a random horse or a Russian 3rd division game, you will get gubbed very quickly.
Also, in the default mode, the Dutch Matcher will optimise your profit by showing you the optimal stakes. However, placing a €61,25 bet will stick out and is a clear indication that you are dutching.
Instead you should enable stake rounding as shown in the second screen shot below.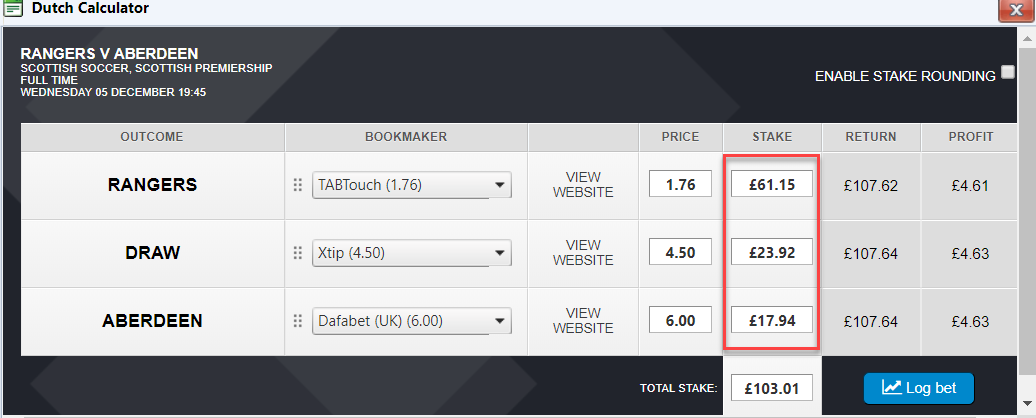 Is there any way to Dutch safely?
Any dutch comes with  associated risk of being gubbed. However, by following a few ground rules, you can minimise that risk.
1Only dutch on popular teams or events that lots of people will be betting on as well. This way you will not stand out from the crowd
2Keep your stake within your usual betting range. If you normally bet €20, then a €100 bet will stand out. However, if your normal betting is range is €20 – €50, then a €30 bet will stand out less
3Only dutch with bookmakers that do not have regular reload offers. If you do end up being gubbed, it is better to be gubbed by a less profitable bookmaker
4Dutch on accounts that are already gubbed. Even if you are gubbed and are no longer eligible for bookmaker offers and free bets, you are still allowed to place bets with the bookmaker. Since your account is already gubbed and it is very unlikely that the bookmaker will remove any account restrictions, you can use dutching to squeeze out a bit of last profit from the account.
Conclusion
When we dutch, we are taking advantage of the bookmaker's odds being higher than the odds offered by the market.
Although dutching can give you a short-term profit boost, it offers little value compared to Matched Betting in the long run. Taking the occasional bet is most likely not going to result in any account restrictions if you make sure you also take offers and mug bet regularly.
However, regular dutching without any form of account preservation will get detected and your account will get gubbed.
Please read our article on Account Preservation and ask any questions in the Forum.