Underlaying and overlaying are a couple of great tools any advanced Matched Bettor should have in their toolbox.
Underlaying and overlaying are techniques designed to vary profit depending on the outcome of your bet.
Both can be used to turn offers that are not risk-free into risk-free offers and minimise losses on qualifying bets.
This guide will show you how to use the underlaying technique and show you how to include the technique in your quest for Matched Betting profit.
What is Underlaying?
Underlaying a Matched Bet means that you are placing a smaller lay bet than you normally would.
As shown in the screen shot below from the DoppelWetten Calculator, underlaying a particular bet would result in shifting the qualifying loss from the back bet (with the Bookmaker) to the lay bet (with the Betting Exchange).
From the example below, a standard Matched Bet would result in a loss of €0,33. However, when underlaying you will have no loss if the back bet wins but a larger loss if the lay bet wins.
Ultimately, you will increase your profit if your back bet wins and you will end up with less profit if your lay bet wins.

How to Underlay?
You use the DoppelWetten Matched Betting tools to calculate how much to lay if you want to underlay a bet.
If you use the Calculator you need to switch from Simple Mode to Advanced Mode.

If you use the Oddsmatcher you also need to switch from Simple Mode to Advanced Mode as shown below.

Regardless of which Matched Betting tool you use, you will always be able to customise the calculation.
This means you can choose how much you would like to underlay for a specific Matched Bet.
You change the stake by dragging the slider either to the left or to the right.
It is always a good idea to play around with the numbers to learn how the calculations change when the odds change or you underlay or overlay.

When to use Underlaying?
Example 1 – bonuses with a wagering requirement
Underlaying is useful when you have an offer with a wagering requirement.
You are looking to "lose" the back bet at the bookmaker to move the money into the betting exchange.
Many sign-up offers in Germany are of the kind where you can get a 100% bonus up to €100 if you deposit €100. However, there is a wagering requirement attached to the bonus before you can withdraw the money.
Rather than placing multiple smaller bets, underlaying is most effective if you bet the full amount. Below is a screen shot from the DoppelWetten Calculator to illustrate this.
I have added a back stake of €200. Remember to change from Simple Mode to Advanced Mode to use the underlaying feature.
In the underlay part of the calculator, you can see that if our back bet with the bookmaker wins, we would have to continue placing Matched Bets until we have met the wagering requirement.
However, when underlaying, we would not have lost any money and the entire bonus is still available. On the other hand, if the lay bet won, we would have a loss of €31,49.
But, we would then not have any more money left in the bookmaker account to wager and you would have completed the sign-up offer.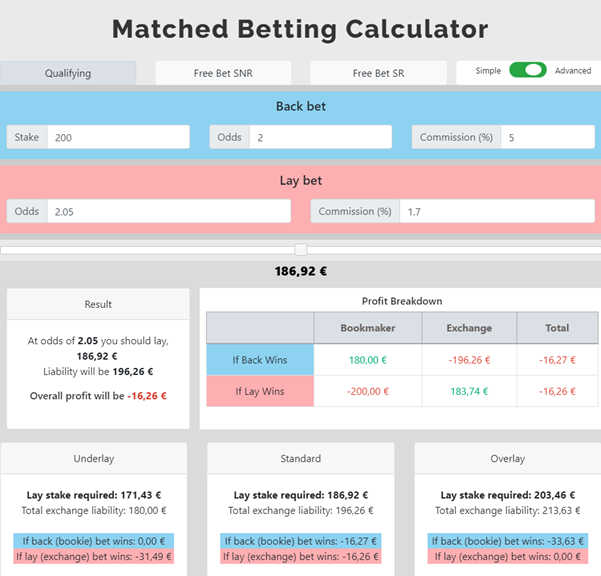 Example 2– making trigger bets risk free
Another scenario where underlaying can be useful is with offers where you bet €x and get a free bet of €x if it loses.
By underlaying you can make the offer risk-free.
As shown in the calculator below, if you place a regular qualifying bet you will have a qualifying loss of €-1,19 or €-1,20, regardless of which bet wins. Hence, if your back bet wins you will have a qualifying loss but no free bet.
If we underlay, we will have no loss if our back bet wins. We will have a loss of €-1,73 if our lay bet wins but we will then receive a free bet.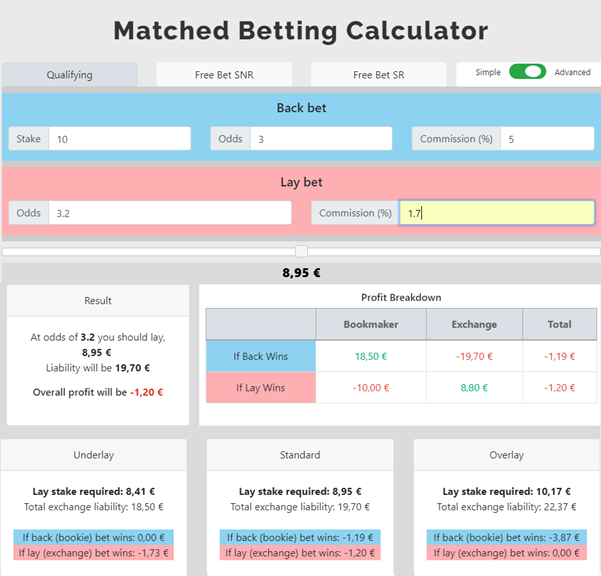 Check out the Forum for current Matched Betting offers.