This calculator is used to eliminate a lay bet that you do not want anymore.  You may have accidentally laid too much, for example by having the Matched Betting or Oddsmatcher calculator set to 'normal' instead of 'SNR free bet', or you simply want to 'cash out' a lay bet.  You can read more about these scenarios in our Unwanted Lay Guide.
First Look
In the screenshot below, you can see what the calculator looks like with all the details filled in.
Let's say you had a free bet of €50 and should have laid €34.38, but you forgot it was a free bet and laid €44.59 instead.  After setting the calculator to 'SNR Free Bet' and finding out what your real lay amount should have been, you deduct that amount from the amount you actually laid, and you have your unwanted lay amount (€10.20 in this example).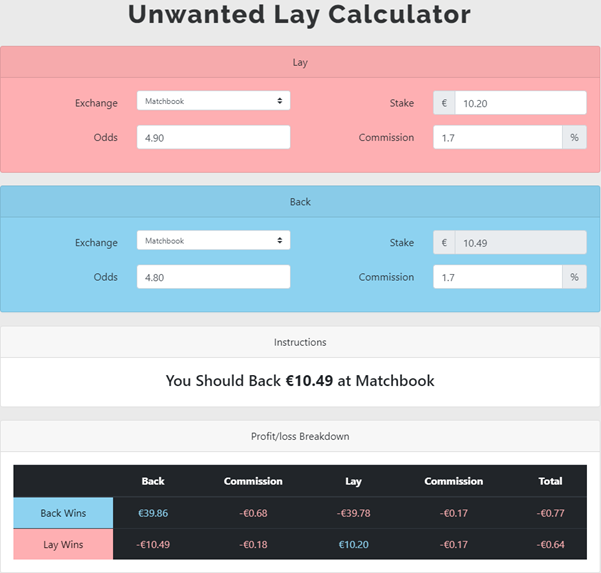 Row Items
Pink Lay Section
Exchange: in this drop-down, you can choose between Betfair (Orbit) / Matchbook and Betfair (Betkeen). This is because Betkeen charges commission on winning and losing bets, and Orbit and Matchbook only on winning bets.  Therefore the back stake is calculated differently depending on which one you choose.  Choose the exchange where you placed your lay bet originally.
Stake: enter the unwanted lay stake you have calculated by deducting the SNR lay stake from the normal mode lay stake.
Odds: enter the odds you placed your lay bet at.
Commission: enter the betting exchange commission.
Blue Back Section
Exchange: here you can again choose between Betfair (Orbit) / Matchbook and Betfair (Betkeen), depending on where you are going to place your back bet.
Stake: this will be worked out for you by the calculator.
Odds: enter the exchange back odds for your selection.
Commission: enter the exchange commission.
You are then instructed to place a back bet of €10.49 at Matchbook, in this case.
Profit/loss Breakdown Section
In this section, you will see detailed amounts of the possible outcomes of your bet.
Back Wins: shows your winnings from the exchange where you are placing your back bet, minus commission, and your loss (your liability) with the original exchange (just for that part of your original lay bet). In this case, commission is deducted for the losing bet as well, as we are using Matchbook (when Matchbook was still charging commission on losing bets).
Lay Wins: shows your lost back stake, minus commission, and the lay stake you won (just for that part of your original lay bet), minus commission.
Total: shows the total amounts you will lose depending on the outcome. If you use a profit tracker, this amount should be deducted from your free bet profit.
If you have any questions about this guide, please visit the Forum.