The part-lay function of the Matched Betting Calculator should be used whenever a lay bet has only partially matched and you are left with an unmatched proportion of your original lay stake which had been calculated for you by the Matched Betting Calculator or the Oddsmatcher Calculator.
After cancelling the unmatched part of your lay bet at your exchange, you will have to lay it again at different lay odds, most probably higher odds.  The amount you still need to lay will therefore be different to the unmatched part of your original lay stake.  This is what the part-lay function is designed to do.  It calculates your ideal part-lay stake, taking into account the odds the part lay stake was placed at, and the odds that you have to place the remaining lay stake at, while making sure that you still end up with equal profits.
However, the part-lay function can also be used with the advanced mode (underlay or overlay), plus for SNR and SR free bets.
MB Calculator in Simple Mode with Part-Lay Function Activated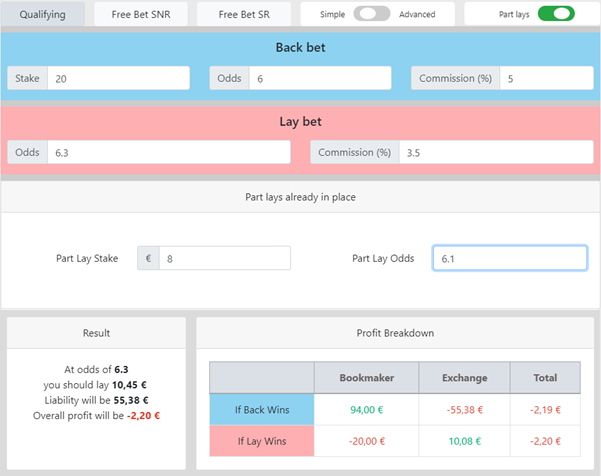 First row: here you can see the part-lay mode activated, and this is also where you choose the bet type (qualifying, SNR or SR free bet) and the mode, simple or advanced. The blue section is filled in with the details of your back bet, as you would normally do it, and this is not affected by the part lay. In the pink section below, you need to enter the
new
lay odds, and the lay commission charged by your betting exchange.  In this example, the new lay odds are 6.3 and the exchange is Orbit, with a standard commission of 3.5%. In the section below, you enter the part lay stake which has already been matched at the exchange.  In this example, out of a calculated lay stake of €18.80, which had originally been calculated at lay odds of 6.1 with a back stake of €20, only €8 were placed at those odds of 6.1. Below on the left is the results section.  The calculator has worked out for you that at the
new lay odds
of 6.3, the lay amount you should place at the exchange is €10.45. 
The liability is only shown for your part lay stake
that you are about to place, i.e. €55.38. 
The overall profit/loss, though, is composed of both part lay stakes
.
If you have any questions about this guide, please visit the Forum.