Casino offers can be very profitable and should not be overlooked when Matched Betting.
However it is important to know the answer to the question: Is a casino offer worth doing?
If you have signed up to bookmaker newsletters (which you definitely should), you will most likely have receive numerous casino offers during the week. You will especially receive these emails on days when there is not much football on.
Please remember that casino offers are, in the Matched Betting world, advantage play. This means we only play when the advantage is in our favour. Casino offers are not risk-free and profit and loss will always deviate from the expected value (EV).
If you are new to casino offers please read the full casino guide.
Return to Player (RTP)
Return to Player or RTP is a term used to describe the percentage of the wagered money that will be paid back to the players over time. The RTP is a useful indicator when deciding if a slot offer is worth doing. However, it should be noted that the RTP percentage is based on a long period of time and large number of plays and does not guarantee a certain outcome in the short term.
The RTP percentage is how much we can expect to get back when we play with €100.
If you use the basic Blackjack strategy, the house edge on Blackjack is around 0,5% and the RTP is around 99,5%. This means that we expect to lose around €0,50 for every €100 staked. In comparison, the average slot machine RTP is around 95%.
The Expected Value (EV)
Example 1
Play £20 on Blackjack and get a £10 bonus with a x10 wagering requirement.
We play our £20 on Blackjack as required. We expect a RTP of 99,5%. Playing £20 we should return
99,5% of €20. After completing the qualifying requirement, we should therefore have lost €0,10.
We will now have unlocked the €10 bonus. With a x10 wagering requirement, we need to play €10 x 10 = €100 worth of hands until we have completed the offer and the bonus will turn into cash.
Again, we expect a return of 99,5%. From the wagering requirement of €100 we expect to lose €0,50.
This gives is an expected value of €9,40. We got a €10 bonus, but lost €0,10 from the qualifying requirement and €0,50 from the wagering requirement.
Example 2
Play €10 on slots to get a €5 free bet.
We play the €10 on a selected slot. We expect a RTP of 95%. Playing the €10 means we lose €0,50.
However, we have unlocked a free bet of €5. We expect to make a profit of around €3,50 from the free bet.
Our expected total from this offer is a profit of €3 (€3,50 – €0,50).
The DoppelWetten EV calculator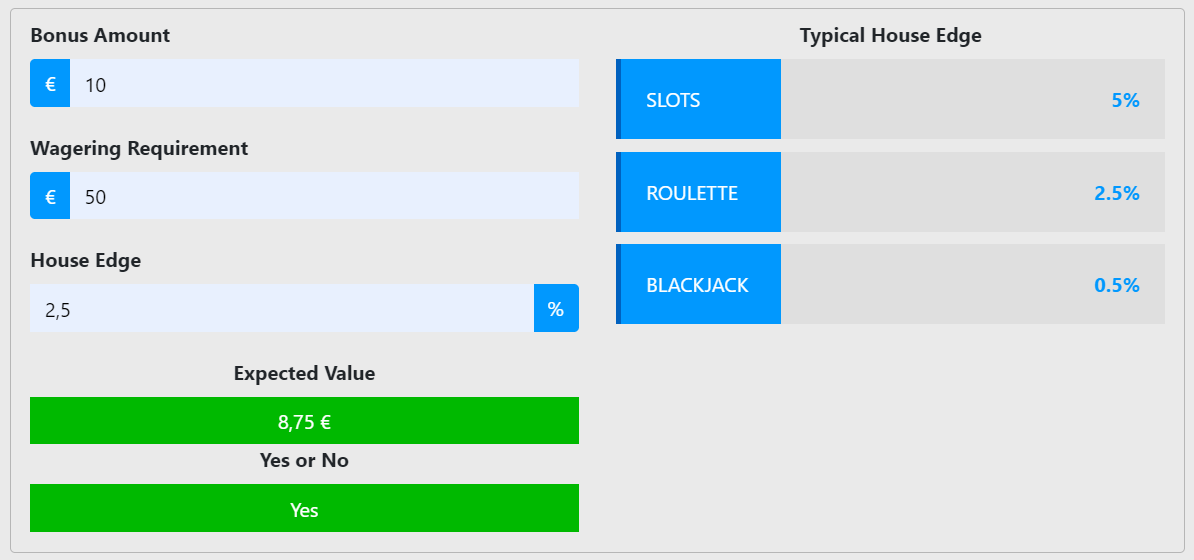 1Bonus amount: The bonus amount of the offer
2Wagering requirement: You will find this number in the terms and conditions of the offer
3House edge: Choose which type of game you wish to play. Often the offer will require you to play a certain game
4Expected value: How much profit or loss (on average) you can expect from the offer
5Yes or no: Yes, do the offer; no, don't do the offer
You can find a list of accurate slot RTP percentages here.
https://www.trickybet.net/betting/slot-rtp-percentages/
https://www.oddsmonkey.com/training/ViewGuide.aspx?guideId=98