One of the most common problems that can occur when placing your lay bets is that the amount you want to place as your lay bet is not 'matched' or only partially 'matched' with your betting exchange. This effectively means that your lay bet has not been placed, or only part of it has been placed.
Due to the sheer number of bets that you are going to place as a Matched Bettor, this is a problem that you will inevitably encounter at some point or other, so it's a good idea to be prepared for these scenarios, before they actually happen.
Why do I have an unmatched bet?
The reason for an unmatched or partially matched bet is that there is not enough liquidity at certain odds, when you are trying to place your lay bet.
You should always check in the Oddsmatcher whether there is enough liquidity for the lay bet you are looking to place. Please note that if you are using Orbit as your exchange, the liquidity should be the same as for Betfair, as indicated by the Oddsmatcher.
There are two places where the liquidity is indicated. Firstly in the list of games shown by the Oddsmatcher for your specific search:

And secondly, when you open the calculator for your chosen game: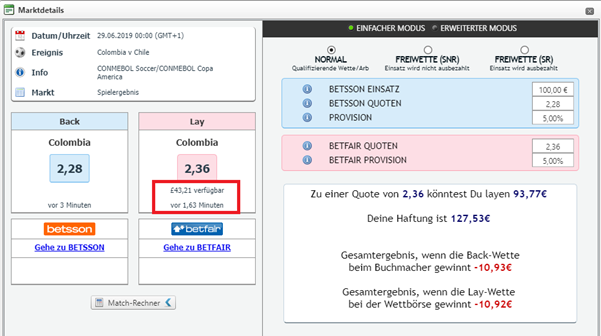 As you can see, if you are looking to place a €100 bet, the suggested lay amount is €93.77, but only €43.21 are available at Betfair. At this point, you could abandon that particular match and look for one where the liquidity is sufficient.
However, the liquidity might decrease while you are placing your bet. The odds might change while you are in the process, or somebody else might have placed a bet just before you.
It is important to remember that on betting exchanges, unlike placing a bet with a bookmaker, there are no guarantees that you will be able to place a bet at the odds stated. It all depends on whether or not someone is willing to place a back bet at those odds.
What happens if I have an unmatched or partially matched bet with my betting exchange?
Your bet will remain in the market and will be queued until somebody chooses to match it. This may well happen, so you could decide to wait, and often unmatched bets do end up being matched eventually. This is not a good option if the game is due to start soon. If you do nothing and the bet is still unmatched when the game starts, it will be voided. This is not an ideal scenario, as you will have an active back bet and your risk will not be covered by the matching lay bet.
There are some precautions you can take to minimise the risk of unmatched or partially matched lay bets occurring:
1 Do not place a lay bet if you can see in the Oddsmatcher that the liquidity is not sufficient. Either decrease the amount or look for another match.
2Carefully check the lay odds and the liquidity again when you are logged into your betting exchange. If there is not enough liquidity for the odds that the Oddsmatcher suggested, look at the next highest odds offered by your betting exchange, and enter those odds into the Oddsmatcher (if the liquidity for those is sufficient), and recalculate. If the loss from the matched bet is then too high, abandon and look for another match.
3f everything on your betting exchange is the same as calculated by the Oddsmatcher, place your back bet and your lay bet straight away, without waiting for too long.
4If the odds/liability change after you have entered the bet details and placed your back bet, but you haven't placed the lay bet yet, just cancel the lay bet you have entered, as in the screenshot below of a lay bet about to be placed on Orbit.

In that case, you won't be able to look for a better match because you have already placed your back bet, so you just need to choose the best available lay odds (instead of the lay odds of 2,36 in the screenshot, choose the 2,38 to the right with the higher liquidity), enter them into the Oddsmatcher, update the Oddsmatcher, and then place your recalculated lay stake at the new odds. Your loss will be slightly higher, but you won't have an unmatched bet.
What to do if you do have an unmatched bet?
First of all, don't panic, and don't just let the bet run, hoping that it will be ok. This is gambling and not encouraged.
Remember, you can always cancel an unmatched lay bet. Just follow the instructions in Step 4 above any time before your game starts, if your bet doesn't get matched in the meantime. Of course it might get partially matched (which will be covered in the next section), so you may prefer to cancel it straight away and just place a new one at the next higher odds, after recalculating your stake.
What to do if you have a partially matched bet
This is slightly more complicated, because part of your lay bet has been matched and cannot be cancelled anymore.
But still no need to panic, because the DoppelWetten calculator has a very handy feature to work out your correct lay stake when there is already a part lay in place.
First of all, you need to cancel the part of your lay bet that is still unmatched. All you need to do then is enter all the details, including the new available lay odds, into the calculator, and it will work out your new part lay stake. Here is a screenshot, and I have used the Colombia v Chile game from the Orbit screenshot above, and assuming the new odds are 2,38, and €47 were placed at odds of 2,36, as above.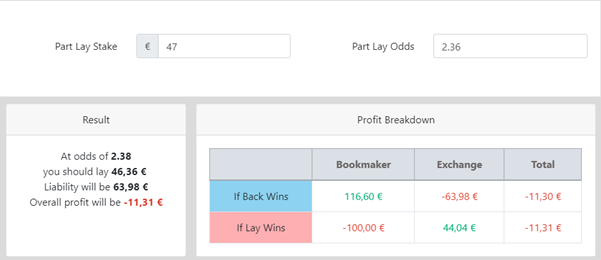 The calculator will work out your new, overall loss/profit, and it will also show you your liability attached to your new part lay.
Any questions? Just head over to the Forum, and check out the latest offers while you're there.