What is arbing?
Arbing, arbs, safe bets, arbitrage are all names for the same Matched Betting technique, which is used to make risk-free profits.
An arb takes advantage of the odds difference between the bookmaker and the betting exchange. The normal scenario is that the lay odds (the Betting Exchange odds) are higher than the back odds (the bookmaker odds). Therefore, we make a small loss when qualifying for free bets and bonuses.
On the other hand, if the lay odds are lower than the back odds, it creates an arb and a way to make risk free profit.
The screenshot below, from the DoppelWetten Calculator, shows how we make a loss of €2,89 when the back odds of 2,00 are lower than the lay odds of 2,20.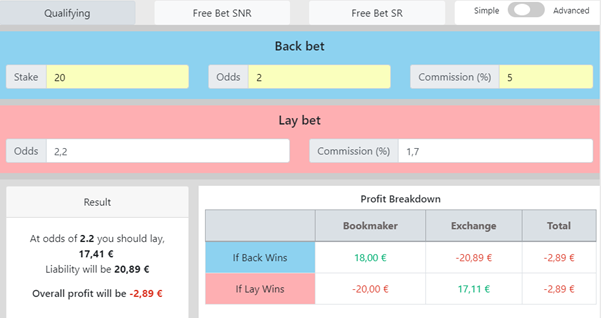 However, if we reverse the odds, as shown below, the overall profit is €0,72 because the lay odds are lower than the back odds. This is an arb.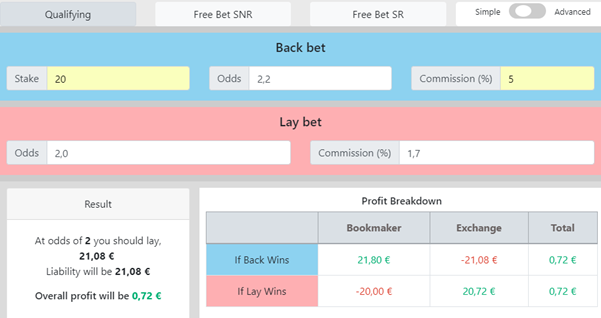 Are arbs the same as Odds Boosts?
No. Arbs and odds boosts are not the same thing. But arbs and odds boosts work in the same way from a Matched Betting perspective and are both profitable income sources.
However, the main difference is that odds boosts are odds that are deliberately increased above the market rate by the bookmaker. Odds boosts are often used for promotional activities by the bookmaker to attract your business.
Arbs on the other hand are created by the market mechanisms. Odds fluctuate due to the laws of supply and demand, much like the financial markets. Several factors affect how the odds change but the main drivers are:
New information e.g. starting line-ups, injury news etc. Money – where the money is going determines which way the odds move
A bookmaker will normally change its odds to follow the market as not doing so could result in them being out of line with other bookmakers. This means the bookmaker risks being overly exposed to a given outcome of an event.
It is these market changes than we seek to exploit when looking for arbs.
How to find arbs?
The easiest way to find arbs is by using the Oddsmatcher tool. The Oddsmatcher automatically finds the arbs and conveniently displays them with a red colour as shown below. Anything with a rating over 100 is considered an arb and can enable profit if we place a Matched Bet. However, please remember to factor in both the German betting tax and Betting Exchange commission before placing any bets.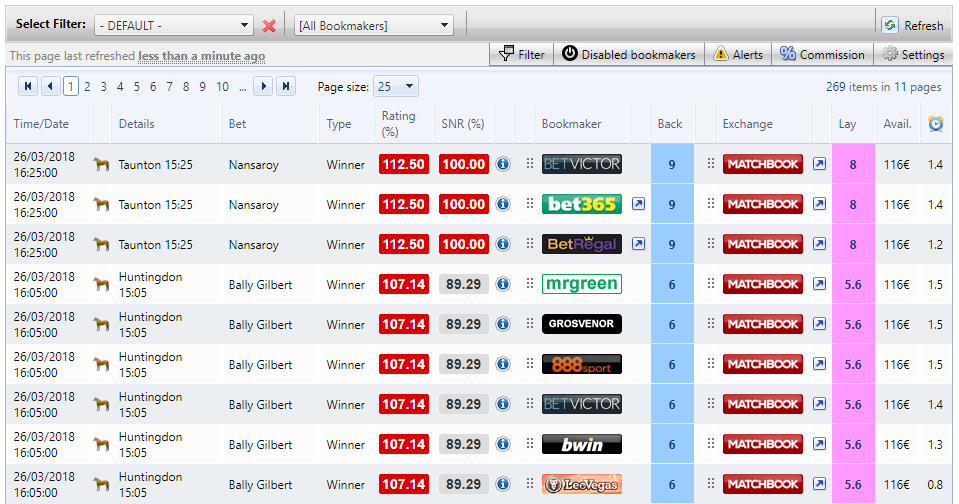 The window of opportunity is normally quite short as arbs usually don't stay for long before the market corrects itself. Bookmakers will realise that their odds are above the market odds and lower their odds. The Betting Exchange odds will increase as other savvy Matched Bettors look to make money from the arb. Hence, if you decide to place a Matched Bet on an arb, it is important to place and lay your bets quickly before the odds change.
Mind the (odds) gap, please
Although arbing is a risk-free Matched Betting technique and can help boost your monthly profits, it is important to know the associated dangers.
Bookmakers do not like punters who arb and are quick to gub or stake-restrict accounts that take too many arbs. It is important to keep in mind that a gubbed account rarely gets un-gubbed. So, you should always consider if the short-term gain is worth a gubbed account.
Bookmakers are constantly monitoring the odds markets and the odds at the Betting Exchanges. As such, the bookmakers will know if you are arbing. So, if you normally place €20 bets and then suddenly place a €500 bet on an arb on a random horse or Russian 3rd division game, you will get gubbed very quickly.
Is there any way to arb safely?
Any arb comes with the associated danger of being gubbed. However, by following a few ground rules, you can minimise that risk.
1Choose only arbs on popular teams or events that lots of people will be betting on as well. This way you will not stand out from the crowd
2Keep your stake within your usual betting range. If you normally bet €20 then a €100 arb will stand out. However, if your normal betting range is €20 – €50, then a €30 arb will not stand out
3Only arb with bookmakers that do not have regular reload offers. If you do end up being gubbed it is better to be gubbed by a less profitable bookmaker
4Arb on accounts that are already gubbed. Even if you are gubbed and no longer eligible for bookmaker offers and free bets, you are still allowed to place bets with the bookmaker. Since your account is already gubbed and it is very unlikely that the bookmaker will remove any account restrictions, you can use arbing to squeeze out a bit of last profit from the account.
Conclusion
When arbing, we are taking advantage of the bookmaker's odds being higher than the odds offered by the Betting Exchange.
Although arbing can give you a short-term profit boost, arbing offers little value compared to Matched Betting in the long run. Taking the occasional arb is most likely not going to result in any account restrictions. But it is important you make sure you also take offers and mug bet regularly. However, taking regular arbs without any form of account preservation will get detected by the bookmaker and your account will get gubbed.
Head over to the Forum for the best offers of the week.