In this guide, I will show you how to profit from the 2-up offer.
This can be a very profitable offer, which leaves lots of room for individual strategy! It can also add to the excitement if you are watching the game you bet on.
Where to find this offer?
At the moment, 2-up is offered by Bet365 and Betano. In this guide, we will concentrate on the Bet365 offer.

The 2-up offer is available for bets placed on 1st and 2nd Bundesliga games, as well as Champions League and Europa League group stage matches.
Due to the nature of this offer, it is only bets that are placed on either team to win that qualify.
There is no stake limit and no minimum odds.
Details of the offer
The offer itself is quite simple.
You place a bet on either team A or Team B to win and as soon as your team goes ahead by two goals, Bet365 will settle the bet and pay out your winnings, regardless of whether your bet then goes on to win or not.
If ultimately the game ends in a draw or the other team win, you can still keep your winnings.
How can you profit from the 2-up offer?
The 2-up offer works like a trigger bet, i.e. the team that you bet on going two goals up. If that doesn't happen, you will only have a qualifying loss (because you will have layed your qualifying bet), but no profit. As with all trigger bet offers, it is important to keep the qualifying loss to a minimum, because the trigger may not happen.
In this particular case, although it may be likely for some teams, in certain matches, to go two goals up, it is a lot less likely that they will then not go on to win the game. If this weren't the case, the bookmaker wouldn't run this offer.
If the trigger does happen, there are different strategies you can use to benefit from this offer, and I will go through each of them below. The strategy you choose would depend on the stage the game is in at the point the bookmaker pays out, as well as your risk appetite.
Strategy 1 – Not do anything when the trigger happens
If you decide on this strategy, you just place a qualifying bet on one of the teams to win the game and lay it off as normal on your betting exchange.
Possible Outcomes
1Your team never goes two goals up during the entire game. You will have a qualifying loss.
2Your team does go two goals up and then wins the game. You will have a qualifying loss.
3Your team does go two goals up and then does not win the game. You will have a fairly big profit, because both your back and your lay bets win.
The advantages of this strategy are that firstly, you may have a big win, and secondly, you do not have to follow the game.
The disadvantage is that you may have a qualifying loss and no profit for a large number of games, and this is the most likely outcome.
Strategy 2 – Cash out your lay bet when the trigger happens
To use this strategy, you have to either watch the game or at least follow it online.
The reasoning is that once your back bet has been paid out by the bookmaker, you will have an unmatched lay bet which is likely to lose, so you are trying to cancel it because you don't need it anymore to offset your back bet.
Please note: if it is not possible to 'cash out' bets on your betting exchange, you will be placing a back bet with your betting exchange, which is essentially the same thing.
Also, if you have several lay bets on the same game and outcome on your betting exchange, cashing out would mean that they would all be cancelled.
Step-by-step guide
1Use the Oddsmatcher to find a suitable match from one of the qualifying leagues. Set the filter as in the screen shot below.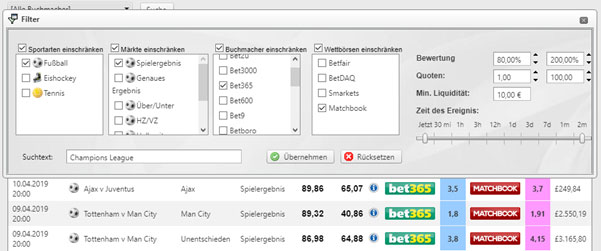 2Choose one of the entries from the list (but not a draw). Place your back bet with Bet365 and your lay bet with your betting exchange.
3As soon as your team goes two goals up, double-check whether Bet365 have paid out. You will get a message saying that this has happened when you log in.
4You should already have the DoppelWetten Early Payout Calculator ready with most of the details filled in, so you can react quickly. You can access the calculator under Tools.
5Place your back bet on your betting exchange as per the options explained below.
The example below is based on a pre-match bet on the Champions League game between Man Utd and Barcelona. The bet is on Barcelona to win, and assuming they go two goals up in the game, and the odds on them to win will be 1,20 after that.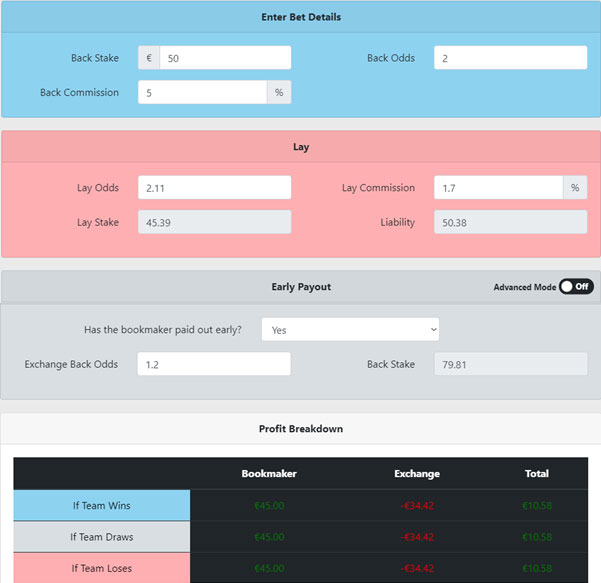 Line-by-line explanation of the calculator entries
Back Stake: Enter the stake of your back bet with Bet 365. €50 in this example, but remember, there is no stake limit for this offer.
Back Odds: Enter the back odds with Bet365, 2,00 in this example.
Back Commission: Enter 5% because Bet365 charge the German betting tax.
Lay Odds: The pre-match betting exchange lay odds that you placed your lay bet at, 2,11 in this example.
Lay Commission: The lay commission charged by your betting exchange. We used Matchbook (not accessible anymore now), so we have entered 1,70.
Lay Stake: The stake that you placed on the lay bet on your betting exchange, calculated by the Oddsmatcher.
Liability: This is automatically filled in and should be the same as when you placed your lay bet.
Has the bookmaker paid out early?: You can set this to 'YES' when it has happened.
Exchange Back Odds: The current back odds on your betting exchange (in the blue fields on your betting exchange). For this example, it is an assumed value.
Back Stake: This is calculated and is the stake that you should place on the betting exchange back bet.
Profit breakdown: In this section, you can see that if you place a back bet on your team on your betting exchange for €79,81, you will have a guaranteed profit of €10,58, regardless of the eventual outcome of the game.
Different options for cashing out
Depending on the stage in the game and your risk appetite, you may decide to not place your back bet straight away, but wait until maybe the other team score (again). That would mean that the back odds on your team to win on your betting exchange will go up, and this will lead to a higher profit. Equally though, your team might score yet again, and then their odds will go down even further.
If you really can't decide, you may want to use the handy 'Advanced Mode' feature that you can see at the bottom right of the calculator. This enables you to just lock in part of your profit and leave the rest to chance, and the possibility of a higher profit. Setting the Advanced Mode to 'ON' will open a slider that goes from 0% to 100%, as in the following screen shot.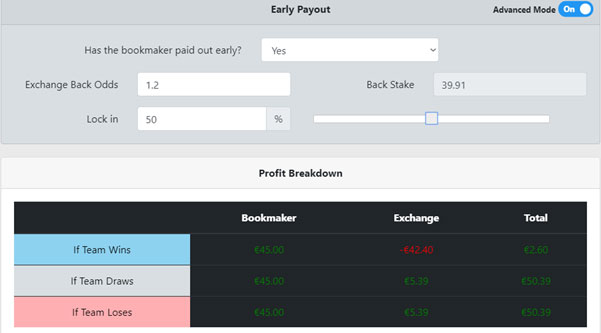 As you can see, with the slider set at 50%, you will lock in a profit of €2,60 by placing a back bet of only €39,91 on your team on your betting exchange, however if your team draws or loses, your profit will be €50,39.
Setting the slider to 0% would equate to not placing a back bet at all, and then you would have your qualifying loss in case your team wins, and the wins from both your back and lay bets for the other two outcomes.
Some final notes
1As mentioned above, it may be a while until you profit from this offer, even if you do it regularly. It may also involve doing a little research, to find out which teams are most likely to give away a two-goal lead.
2If you bet on the favourite, they will be more likely to get two goals ahead, but if they do, the odds on them will be very low. If on the other hand you bet on the other team, the trigger is less likely to happen, but if it does, your profit will be much higher.
3If you have placed other lay bets on the same outcome, don't worry, because by using the early payout calculator, you will only be cashing out the lay bet that relates to this offer.
4Equally, don't worry if your balance on your betting exchange is low, because you will be reducing your liability by placing a back bet, and your account balance will actually go up after placing the back bet.
5Even though as mentioned above, there is no stake limit applying to this particular offer, you should bear in mind that it would look odd if you suddenly placed much higher bets than you used to, and this may lead to your account being 'gubbed'. Please see our guide on account preservation for further information.
If you have any questions about this guide, and also to check out the latest offers, head over to the Forum.