What is value in betting?
Have you heard about value in betting but are not quite sure what it is or how to find it?
Don't worry, you are not alone.
Value is one of the most important concepts in matched betting as it can increase your profit and also prevent you from getting gubbed.
This blog post explains everything you need to know about value.
Let's get started.
Value in betting
Value is one of the most used terms in betting.
It is very important to understand the concept of value as this can not only increase your profit but help you avoid having your bookmaker accounts restricted.
What is value in betting?
Value is commonly used in financial investment and has the same meaning in sports betting.
For example, if the price of a stock is less than it should be, then there is value in buying the stock as you have the opportunity to increase the value of your investment.
Similarly, you can find value in betting if the odds do not reflect the real probability of the outcome to happen.
Value in betting is identifying an edge against a bookmaker or another user on a betting exchange. This edge can for example be that you have information about an injury to a key player that has not yet reached the general public.
A value bet is a bet where the probability of it winning is higher than the bookmaker or betting exchange odds reflect.
How to calculate value in betting
Here we use a coin toss to create a simple example of a value bet.
In a coin toss there are only two outcomes, heads or tails. The chances of the coin to land on heads is exactly 50% and the chance of the coin to land on tails is also 50%. The odds for each outcome are 2,00.
This is the formula used to calculate the odds: odds = 1/probability. In the coin toss example, we have 1/0,5 = 2,00.
Let's imagine that the odds on the coin to land on tails is 2,10 with bookmaker A and the odds of it landing on heads is 2,00 with bookmaker B.
Since the actual probability is 50% on both outcomes, you should naturally bet on 2,10. The reason is that the odds of 2,10 are higher than the underlying probability suggests.
Hence, this is a value bet.
Your bet might not win every time but over time you should be in profit as you are betting on value.
Expected value and variance
Expected value (EV) is what you can mathematically expect to win or lose in the long run. Expected value does not take variance into account.
Variance measures the difference between the expected value and the real value.
Real value is the actual win or loss of your bets, which will depend on the outcome of the events you have bet on. The real value includes the variance.
Variance is the reason why your actual profit or loss may not match the expected value.
If we continue to use the example with the coin toss above.
We can calculate the expected value by using this formula:
(profit per bet * probability of winning in decimals) – (loss per bet * probability of losing in decimals).
In this case: (€11 * 0,5) – (€10 * 0,5) = €0,50.
With an expected value of €0,50, you would expect to make an average profit of €0,50 (or 5%) for each €10 bet, as the odds are better than the underlying probability.
However, if we only place one bet you would either lose €10 if your prediction is wrong or win €11 ((€10 X 2,10)-€10) if your prediction is correct and not the expected €0,50.
If you then place another 1000 bets you will see the real value coming closer to the expected value.
The variance is much higher with a smaller number of bets than with a large amount.
Value and Matched Betting
How does value relate to Matched Betting where we mainly earn money from bookmakers' free bets and bonuses?
When doing Matched Betting it is important to know what value betting means as we may intentionally or unintentionally place a value bet or use bookmakers' bonuses to create value for ourselves.
"Taking value" is also a factor when a bookmaker chooses to gub an account. This is because you distinguish yourself from the regular punter and show you are a very well informed about the bets you place. This is not something the bookmakers like because it is expected that over time you will be profitable, meaning the bookmaker will lose money if they keep you as a customer.
"Taking value" can be done whether you Match Bet or not. But as explained below, Matched Betting is often based on "taking value".
Is value betting the same as arbitrage betting?
No, value betting and arbitrage betting is not the same thing.
When placing an arbitrage bet you will have a small profit regardless of the outcome of the event as you place both a back and lay bet. Arbitrage bets are found by using sophisticated software and it is not important which team you bet on.
However, when placing an arb you may "take value" as you exploit a situation where the odds with one bookmaker are higher than the market.
Value betting on the other hand is not risk-free and there is no guarantee that your bet will be profitable. Mathematically, you have positioned yourself in an advantageous situation as the value is on your side. However, due to variance you may not financially benefit from this advantage.
When value betting, you only place one bet and you find value by acting fast on new information i.e. before the odds are corrected or by having more knowledge than the bookmakers.
For example, if Ronaldo is injured this may affect the odds. However, it may take some time before a bookmaker corrects their odds, which gives you an opportunity to place a bet knowing that Ronaldo is injured on odds that do not take this piece of news into account.
It is difficult to attain more knowledge than the bookmaker as they employ people for this purpose. However, the bookmaker cannot follow every single league around the world and naturally allocates more resources to leagues or event with the most bets, e.g. the Champions League or Bundesliga, and fewer resources to minor leagues, e.g. Regionalliga Nordost or the Hungarian second division.
Hence, if you solely focus on finding information from these leagues, you may end up knowing more than the bookmaker and can use this information to find value bets.
Expected value in Matched Betting
Expected value is mostly relevant for Matched Bettors when doing casino offers or other offers that are not risk-free.
It is not possible to lay a casino offer. However, we can still classify them as Matched Betting if we only play when the expected value is in our favour.
To help you easily calculate the expected value we have created the Expected Value Calculator.
As you can see from the example below the expected value is €5. Hence, it is recommended to complete the offer. If the expected value on the other hand were negative, you should move on to the next offer.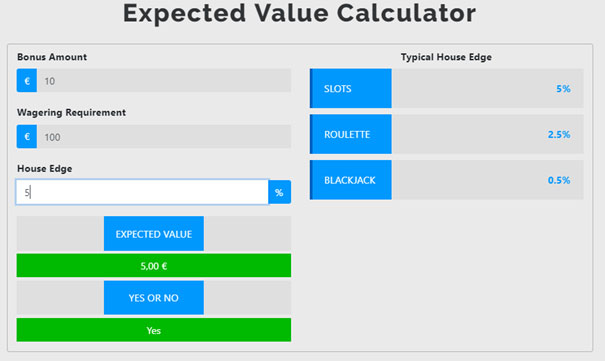 Finding value
Finding value means different things dependent on whether you Match Bet or not. Here on DoppelWetten we do not encourage gambling but you may wonder how non-Matched Bettors find value.
Finding value in sports betting is of course not as easy as detecting value in a coin toss. In sports you never know the exact probability of a certain outcome to happen and using the available information to calculate the probability is extremely difficult. That is why only a few players achieve long-term profit when gambling and most will lose.
So, how do regular punters find value?
It is important to understand that value is not related to the size of the odds, meaning that you can find value in both large and smaller odds. It all depends on the underlying probability.
Some bookmakers are very good at calculating the actual probability and determining the related odds. These are known as sharp bookmakers. Also, some bookmakers are better at certain sports or leagues than others. By closely following the odds of sharp bookmakers, you can determine when other bookmakers have misjudged their odds, which can lead to a value bet.
Another factor in detecting value bets is the ability to use new market information e.g. injury to a key player, and evaluate the impact on the odds. Sharp bookmakers will adjust their odds instantly, but other bookmaker may take hours to change theirs.
To find value bets you also need to be able to stay unbiased. Bookmakers may set lower odds on popular teams like Barcelona or Real Madrid as they know many regular punters and fans will blindly bet on the popular teams to win. Other biases could be punters overvaluing a team's position in the league table, a team's winning streak or undervaluing a team's form.
There will always be inconsistencies in the odds offered by different bookmakers. However, profiting from these inconsistencies is a skill very few regular bettors master.
Luckily, as a Matched Bettor we do no rely on luck or spend hours searching for new market information.
We use tools and calculators to do the hard work for us and thereby ensure profit.
Please check the Forum for current bookmaker offers and bonusses.