Let's Build a Bet
Are you confused by 'Meine Wette', 'Betbuilder', 'Wetten-Konfigurator' etc offers?  Not sure how to tackle them without taking risks?  Do you avoid them altogether?
In this blog post, we will be showing you some creative and fun ways of turning these offers into a guaranteed profit, so make sure you read on.
What all the 'build-a-bet' offers have in common is that they require you to place what essentially amounts to an accumulator bet, but where the selections all have to come from the same game.
As mentioned above, there are different names for these types of bets, e.g. 'Meine Wette' (Betway), 'Bet Builder' (Unibet), Wettkonfigurator (888Sport). A common offer is the one shown below from Betway, where you get a €10 free bet if you place a €10 bet using the 'Deine Wette Konfigurator'.
Perhaps you haven't been doing these offers because you thought they cannot possibly be layed.  Or do you place the required bet anyway, hoping that it will win?  If it doesn't, you will still get the free bet, so you won't have lost too much.  Let's look at the Betway example and go through the options.
Betway: €10 free bet for bets placed with the 'DeineWette Konfigurator'

Offer conditions: Place a €10+ bet using our new DeineWette-Konfigurator on one of the four Champions League games with German participation and we will credit you with a €10 free bet. The bet needs to have odds of at least 4.00 (3/1) and have two or more selections.
When you choose a qualifying game and then click on the tab 'Deine Wette', you will get a list of pre-set options, none of which can be layed: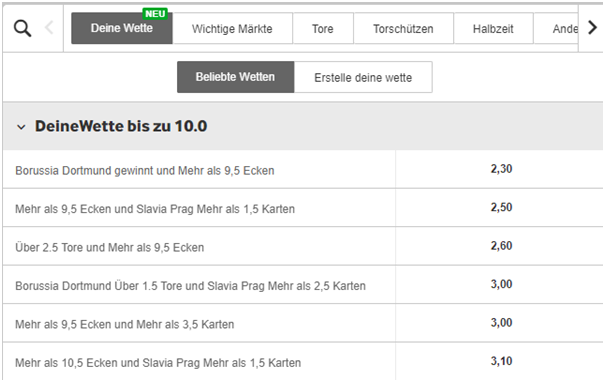 However, if you click on 'Erstelle deine wette', you should be able to choose two different selections that can be layed by placing one single lay bet.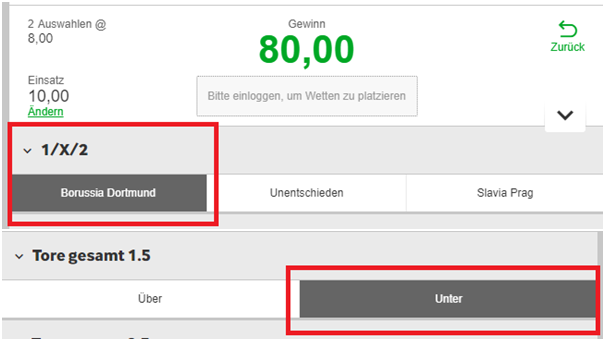 In the example above, I am placing a bet on Dortmund to win, and on under 1.5 goals in the game.  There is only one outcome that will make this a winning bet:  Dortmund to win 1-0, and that is the lay bet I need to place.
You could also choose the draw, plus 'under 1.5 goals', and then place a lay bet on the exact score 0-0.  Of course you could also choose any exact score, plus the Match Odds result that fits that score, and then just lay the exact score.
You may find that the lay odds for the exact score are much higher than your combined odds with Betway.  You will have a relatively high qualifying loss, but you will get the €10 free bet.  Try to keep your qualifying loss to a minimum by trying out different combinations.
If you decide not to lay the bet, you may choose to use one of the pre-selected combinations, but try to stay close to the minimum odds.  If your bet wins, you will have that profit, plus the €10 free bet.  If the bet loses, you will lose €10 of your own money, but at least you will get the €10 free bet.
Some more example of single lays for bet builder bets
With some offers, you are required to put together a bet with at least three selections.  Impossible to lay?  Maybe not.  Here's the fun part:
Let's look at the game Dortmund v Bayern Munich, and consider some options.  We will list them in a table format below.
Back Bet
Lay Bet
Dortmund to win
BTTS – Yes
Under 3.5 goals
Correct score 2-1
Dortmund to win
BTTS – No
Under 1.5 goals
Correct score 1-0
Draw
BTTS – Yes
Under 2.5 goals
Correct score 1-1
Dortmund to win
BTTS – Yes
Correct score 3-1
Correct score 3-1
Dortmund to win
BTTS – No
Correct score 3-0
Correct score 3-0
Can you think of any other examples?
When you assemble your own combinations, make sure you check the terms and conditions of the offer and stay above the minimum total odds.
We hope you found this post useful.  If you have any questions, please visit the Forum.