Boom!! How to make Matched Betting (even) more exciting!
Have you ever asked yourself, how can I make the best use of my sports knowledge, intuition and experience when Matched Betting?
Or you used to gamble, and although the profit from Matched Betting is a nice second income, you're missing the excitement and the thrill of regular sports betting.
Does this apply to you?
If so, then read on!
Of course we work to minimise risk and avoid gambling when Matched Betting.
However, there are certain types of offers where your sports betting experience can help secure a nice bit of extra profit.  In addition, a little luck is also needed, which can make it exciting to follow the game.
All of this without the risk associated with gambling.
By and large, this is about the so-called trigger bet offers, which are explained in our guide of the same name.  Another example are the 'bore draw' offers.  What is appealing about these offers is that we can either lock in a relatively low profit by securing a lay bet on the trigger even in advance, however we can also take a chance on the trigger happening and us getting the full profit, or possibly deciding in-play what strategy we want to follow.
This is where your betting experience and sports knowledge come in useful.  Just pick a game to bet on where you think it's highly likely that the trigger will happen, and then make a decision on how to play the offer during the game.
A very popular offer, which can be really thrilling, is Bet365's '2-up' offer.  You bet on one team, and as soon as your team is two goals ahead, Bet365 will pay out your winnings, and you can keep them, no matter whether or not your bet actually wins in the end.
Of course this opens up some great opportunities for us to rake in some extra profit.  Your back bet has already won, and now you have an unmatched lay bet, which might end up winning as well.  Boom!  Perhaps it's still relatively early on in the game, and the other team are actually the favourites, and experience has shown that they often come back again from being two goals down.  If you know that, it might be worth waiting and hoping for a double win.
Have you ever asked yourself, how can I make the best use of my sports knowledge, intuition and experience when Matched Betting?
Click To Tweet
However, with the Early Payout Calculator you can lock in a profit even in this situation, by cashing out at the exchange, respectively placing a back bet on your team, after Bet365 have paid out, as shown in this example:
If you don't cash out, of course the whole thing looks like this: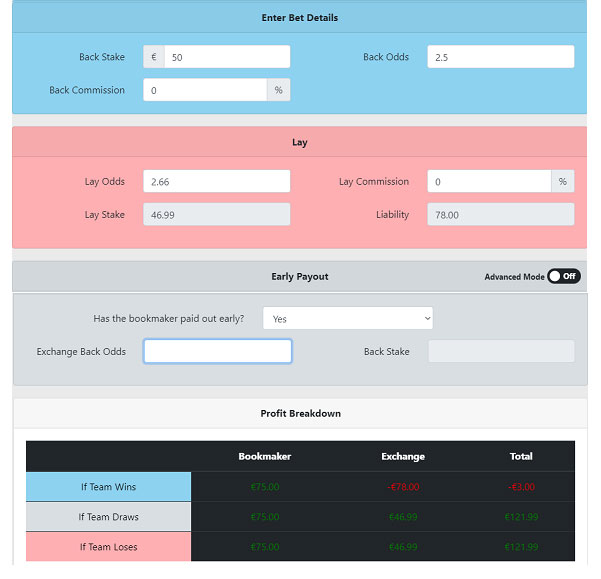 Obviously, after a 2-goal lead, the odds won't be very high anymore, because it is likely that the team that is ahead will actually win.  This is where a bit of luck does come into play, but also strategy, because you could also hold off with your back bet until the other team perhaps score again, as the odds will then go up again, as will your profit.
You may have noticed the 'Advanced Mode' button in the grey section of the calculator.  With this, you can very conveniently set exactly how much profit you want to lock in, from 0% to 100%.
Another great thing about this particular offer is that there is no stake limit.  That means you could stake a much higher amount than the €50 used in the example (just think how much you could win!), but of course you should also keep account preservation in mind!
There are a few other examples of trigger bet offers, however they are 'only' about free bets as a stake refund of up to €20. For the Netbet offer for a free bet if your team score first but then lose the game, it will pay off if you select a team that is highly likely to score the first goal.  If that happens, you can again decide, depending on when it happens in the game, and also your judgment and risk appetite, whether you want to lock in a profit (this time using the Trigger Bet Calculator), or whether you tell yourself, all or nothing, and hope for a boom (i.e. that the trigger happens).
One final example: the Betstars offer for a free bet if your bet loses after 80 minutes. As we all know, this is not actually that rare! And again the question: cash out after 80 minutes if your bet is a winner, or wait for a goal in the last few minutes?
What all of the above examples have in common?  That we don't take any risks in Matched Betting, but we can vary the extent of our potential profit.  Have fun trying things out, with a bit more excitement than usual, and perhaps some of your bets will go Boom!!