30 actionable tips to avoid being gubbed (Definitive guide 2022)
Do you want to avoid getting your accounts restricted by the bookmakers?
Then you are in the right place.
In this guide I will share all my best strategies to avoid gubbing…
I'll reveal advanced tips, tactics and strategies that you can use to keep your accounts open for longer.
Bottom line:
If you want to get the most profit from your bookmaker accounts, you'll love this guide.
Let's do this.
What is gubbing?
What does gubbed mean?
Gubbing is a Matched Betting term used for bookmaker accounts that are restricted in some way.
The most common account restrictions are:
Stake restrictions Not being eligible for promotions e.g. free bets Account closure
Can I withdraw my money if I get gubbed?
Yes, you can still withdraw your money if your bookmaker account is gubbed.
I have had several accounts restricted or closed and in all cases I was able to withdraw my funds. When Stan James chose to close my account, they were even kind enough to transfer the money to my account for me, as you can see from the email below.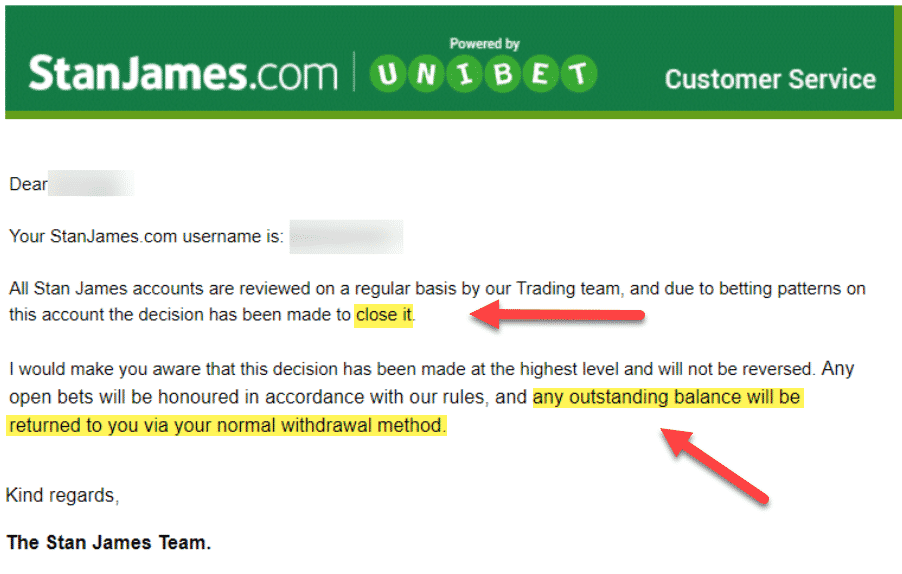 Do account preservation and mug betting work?
Very few topics split the Matched Betting community like the topic of account preservation and especially mug betting.
One camp believe that account preservation only postpones the inevitable and you should grab as much profit as you can, and mug betting will only reduce your profits. The argument is that the bookmakers use advanced software and algorithms which can easily spot any account preservation strategy.
The other camp is of the opinion that account preservation is possible, and by carefully selecting your bets, you can keep your accounts free from restrictions and thus increase your Matched Betting profit over time.
However, account preservation only has a chance of working if you do it correctly. No bookmaker will be thrown off by an occasional €2 mug bet.
A test made by Beating Betting showed some very interesting results.
The test concludes that mug betting works, and surprisingly, the difference in profit was only 8%, which will easily be earned back by keeping your bookmaker accounts alive for longer.
Read also our blog post "Does mug betting work?".

Source and credit: Beating Betting
Why do bookmakers restrict accounts?
Bookmakers exist for one reason and one reason only – to make money.
To ensure they keep making money they must manage their risk and will restrict or completely close accounts of unwanted punters.
An unwanted punter is not limited to Matched Bettors. Anyone who is taking more money out of their bookmaker account than they put in are likely to have their account restricted or closed.
The dream customers are people who bet with no strategy or logic and will usually lose a whole load of cash in the process. That is the typical gambler.
To keep unwanted punters away, bookmakers hire traders, whose job it is to review your account. Traders look for patterns of behaviour that do not follow that of the typical gambler.
Is closing or restricting betting accounts illegal?
No, it is not illegal. Although the practice does seem very unfair, as a business the bookmakers are in their right to refuse to accept a bet.
Often the bookmaker will only restrict your account in areas where you are profitable. So, if you are earning money from sports betting, they will often only restrict that part of your account, but funnily enough, you are often free to continue using their casino games. Why is that? Because the chances of you winning in the long run are very small.
How do bookmakers decide which accounts to restrict?
Smart Betting Club have written a very interesting article, with inside information on how one unnamed bookmaker restricts the stake of its customers.
Other bookmakers may do things slightly differently, but this is a good way to understand the process and practices of bookmakers.
Below you can see the stake factor bands.
If an account has a stake factor of 0,01, it means you are allowed 1% of the maximum bet for the specific market. Consequently, a stake factor of 2,00 means you are allowed 200% of the maximum bet.
All new accounts will start with a stake factor of 1,00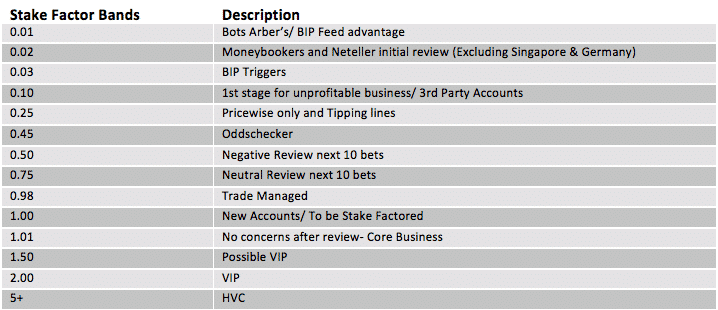 If, once you have placed your first bets, it is not immediately clear to the bookmaker that you are a good customer, i.e. that they will profit from you, you will quickly find yourself in stake factor band 0,75.
Even without Matched Betting, there is a good chance that a punter will quickly find themselves in a lower stake band factor.
As long as you stand out from the standard punter (read losing punter), the bookmaker will be suspicious and may stake-restrict you.
Please see strategy number 25, "Play around on the casino", for a great way to ensure you move from stake factor band 1,00 to 1,01.
Credit: Smart Betting Club
Have I been gubbed?
You will not always know if you have been gubbed.
Unfortunately, the bookmaker's terms and conditions are often very vague and give them the right to restrict you without notifying you.
There are three ways to find out if you have been gubbed.
You have received an email informing you that you have been restricted. When you try and place a bet, you can only bet a very low amount. Often this amount is less than €1. You have not received a free bet after taking part in an offer.
With Options 1 and 2, there is not much you can do other than accept that you have been gubbed.
However, with Option 3, you have taken part in an offer without knowing that you did not qualify. Therefore, it is possible you may still be owed an outstanding free bet.
In my experience, it is worth chasing this missing free bet via live chat or email as the bookmaker will occasionally pay them out upon request. At this point you have nothing to lose, so be persistent.
Top 6 reasons why bookmakers restrict your account
It is much easier to preserve your bookmaker account if you understand the reasons for which bookmakers gub accounts.
Below is a list of the 6 most common reasons for a bookmaker to gub your account.
You are a profitable bettor
This one is quite simple. If you constantly profit from a bookmaker, they will most likely not let you continue to bet with them. The bookmaker may not be able to identify how you made the money, e.g. your betting strategy. Nonetheless, you take out more money than you put in and are therefore not an attractive customer.
You constantly take value
This is probably the biggest reason to get gubbed. Value is often mistakenly believed to be the same as being profitable. This is not the case, although you will often see someone taking value also being profitable.
Value in sports betting is a situation where the odds on a specific outcome from a bookmaker reflect a probability that is less than the actual probability of that outcome occurring. In other words; you believe that a team has a better chance of winning than the odds show.
If you constantly find value, you have a mathematical advantage and you should be profitable in the long run.
Not sure what value in betting means?
Then read our blog post on the topic.
You only bet on offers
This one is aimed especially at Matched Bettors. Bookmakers do not like it if you take advantage of their free bets and promotions.
Your selections constantly stand out from the norm
Bets that stand out from the norm will be marked by the bookmaker. You may get away with a few bets on marked selections but not if it becomes obvious that you have a clear betting strategy.
Bets that will stand out include:
Arbs: Due to odds being higher than the rest of the market
Dutching: Due to odds being higher than the rest of the market
Smaller football leagues: Only placing bets on a smaller league will stand out as the bookmaker may fear that you are able to gain more knowledge than they have. Bookmakers normally allocate fewer resources to smaller leagues and are therefore not able to follow team news etc as closely. Also, many of the news may be in the local language, which again can give you an advantage (if you speak that language).
Only betting on specialised markets: Similar to only betting on smaller leagues, if you only bet on specialised markets, such as Asian handicap, the bookmakers will interpret that as you not being just the average gambler that places a bet on their favourite team every Saturday.
Odd stakes: Betting odd stakes such as €43,72 for example is a clear indicator of arbitrage. Professional bettors do not experiment with their money and calculate the exact stakes needed to ensure profit.
Your identity/location/associated people are flagged up
Your identity, local area, IP address, or even people associated with you can affect whether a bookmaker decides to restrict or completely close your account.
If you are very outspoken on social media about e.g. being a successful bettor or arbing, you could be blacklisted almost before signing up.
Also, being blacklisted isn't always the fault of the account owner themselves. Your profile could also be suspected of being part of a betting syndicate, regardless of whether this is true or not.
Some bookmakers have strict rules against opening different accounts from the same IP address. So, if you share internet with others and they have already opened an account, you could be banned as soon as you open yours.
You have or are doing something that is against the law
If you are engaged in or suspected to be engaged in fraudulent activities, your account will be closed immediately. Bookmakers cooperate with companies that specialise in fraud prevention, who will notify the bookmaker if you try and bet from a restricted country or open additional accounts.
Can I get gubbed from a betting exchange?
No, you cannot get gubbed or restricted with a betting exchange as they make their money from commissions and not whether your bets win or lose.
You can of course have your account closed if you do not adhere to the terms and conditions and e.g. provide false information.
You may hear of people saying they have been gubbed with Betfair. Betfair has both a betting exchange and a sportsbook (regular bookmaker), and it is possible to get gubbed by the sportsbook and still be allowed to use the betting exchange.
Can I withdraw my money if I get gubbed?
Yes. I have been gubbed by several bookmakers, and on all occasions, I was able to withdraw my money.
I have also had accounts closed, and when this happened, the bookmaker transferred my remaining balance to my bank account.
Which bookies should I prioritise?
You should prioritise the bookmakers with the best and most frequent offers.
Unless you are willing to spend hours mug betting and in other ways try to avoid a gubbing, then I suggest you start focusing on the bookmakers below.
It is also a good idea to look back at your betting history to get an idea of other bookmakers, where you frequently receive offers and bonuses.
Betano Sportwetten.de Admiral Winamax Interwetten Unibet Xtip Betway
I was gubbed before I could place a bet!
I have heard many stories from punters that were stake-restricted or gubbed before they could place their first bet.
Common reasons for this to happen are:
You have previously had a restriction with this bookmaker You have previously had an account closed You share an IP address with someone who also has an account with the bookmaker You have been gubbed with a different bookmaker from the same company. For example, ComeOn and Mobilebet are owned by the same company. You used a link from e.g. a Matched Betting site
Especially the shared IP address is a common source of early gubbings. Make sure to check with family or flat mates if in doubt.
There is not much you can do if you do happen to be gubbed before you place your first bet.
Move on to the next bookmaker.
Can I get un-gubbed?
Occasionally, you hear stories of people being un-gubbed after placing a number of regular bets. However, they never seem to be able to enjoy their re-instated freedom for long until they are gubbed again.
So, the short answer to the question is, no it is very unlikely that you will get un-gubbed.
Treat the account as lost and try and squeeze out as much profit as you can.
30 smart tips to avoid getting gubbed
1. Safe URL on DoppelWetten
The first strategy is on us.
You may have noticed the below screen whenever you click on a link from the Forum, which takes you to a bookmaker offer.
At DoppelWetten, we add a little extra text to the links that take you to bookmaker sites.
We do this to ensure the bookmakers cannot see that you are coming from a Matched Betting site. This would of course be clear proof for the bookmakers that you are in fact Matched Betting and they would probably close your account very fast.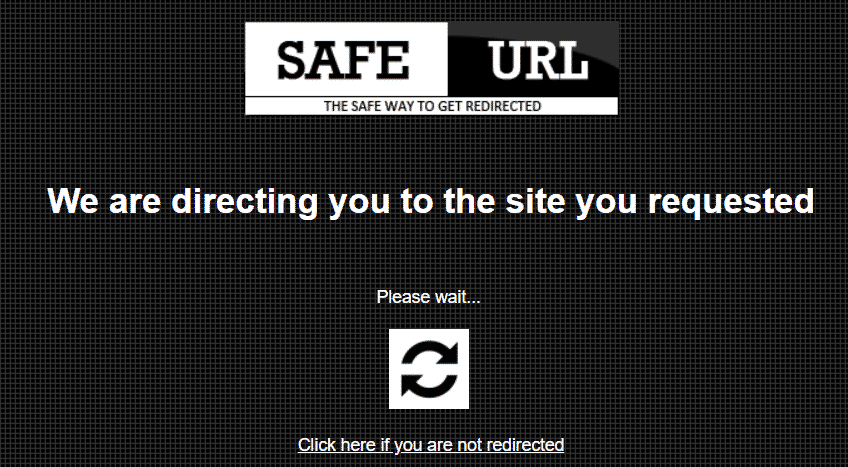 2.   Mug betting
Mug betting is a topic that divides people in the Matched Betting community.
Some swear by it and some believe it is a complete waste of time and that you are throwing away your profit.
Essentially a mug bet is a qualifying bet but without the free bet in the end.
When mug betting, you pick a game from the Oddsmatcher and place the back bet with the bookmaker and the lay bet with the betting exchange.
You will lose a small amount of money every time you place a mug bet. If you don't, you are arbing, which should be kept to an absolute minimum.
However, the small loss should be more than balanced out by avoiding being gubbed by the bookmakers.
Tips when mug betting
Take bad value matches
When mug betting, you should try and take bad value matches. The opposite is the case when placing a normal qualifying bet, as you want to limit your qualifying loss.
However, the purpose of mug betting is to show the bookmaker that you have no idea what you are doing. Expert punters would never take bad value matches.
When you use the Oddsmatcher to look for bad value matches, you have to pay attention to the "Bewertung" or rating column.
Anything above 100% will be shown in red and is an arb. Avoid those when mug betting.
You also have to be careful with ratings of around 98% or 99%.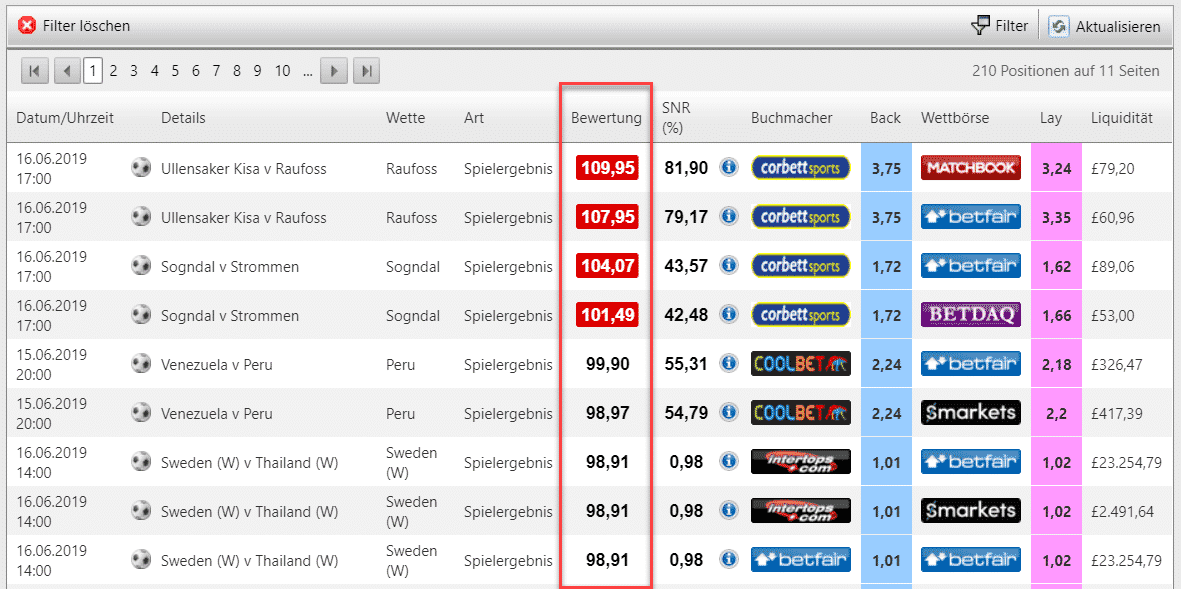 To easily find games with lower ratings, you can change the rating search criteria in the filter.

The reason why you should avoid games with a rating around 98% or 99% is that you are still taking value.
By this I mean you will most likely bet on the highest odds on the market.
Here is an example.
The game between Venezuela and Peru has a rating of 99,90%.
The odds on Peru to win are 2,24.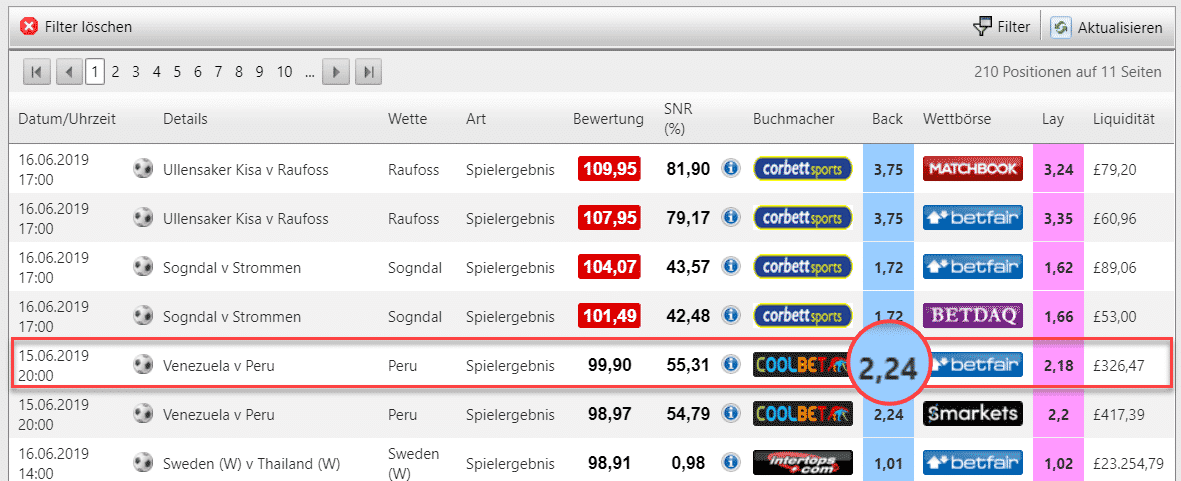 To check if betting on odds of 2,24 is taking value, I will use Oddschecker to compare the market odds.
As shown below, the highest odds on the Oddschecker site are 2,2.
Hence, by betting on odds of 2,24, you will be betting on odds that are higher than the rest of the market and therefore taking value.

Bet on favourites with small odds
Betting on favourites is always a good idea. Every week millions of punters bet on big clubs like Real Madrid, Barcelona and Bayern Munich, and your bet will be lost in the crowd.
Also, big clubs are normally heavy favourites in any game they play and the odds on them to win will be very small. Small odds are normally not of interest to Matched Bettors as they either don't meet the requirement to get a free bet or because we prefer bigger odds when cashing in on free bets.
Bet more than required for the qualifying bet
Just because the offer is bet €10 to get a €5 free bet doesn't mean that you can't bet more. Betting more than the minimum requirement is also a good way to do mug betting. So, instead of €10, place a €20 bet.
Bet on accumulators
Bookmakers love accumulators.
With every match you add, your chances of winning decrease.
Also, many "ordinary" punters will place accumulators during the weekends in hope of that big price. In reality, very few win and the bookmakers cash in on the losing bet slips.
As an aside, when placing accumulators, they often lose, so it is a good way to "transfer" money to your betting exchange account.
A word of warning though. If your accumulator wins, you could end up with a large sum of money in your bookmaker account.
Do a €10 to €1000 challenge
If you are on Twitter, you might have seen the typical Twitter tipsters that offer their followers free tips.
The ultimate goal for these tipsters is that you sign up to a bookmaker via their affiliate links, which means they will earn commission every time you lose money. Of course, that is a huge conflict of interest as they are actually not interested in helping their followers make money.
These are the ultimate mug bet tipsters, and the bookmakers love them and anyone who blindly follows their tips.
By following one or more of those tipsters, you will look like the ultimate mug punter from a bookmaker perspective.
You can either follow their tips by laying the bet, dutching or gambling.
These tipsters will also frequently do challenges.
A challenge is typically one where the aim is to turn €10 into €1000 or, as shown below, €5 into €500, by continuing to stake the winnings on small odds.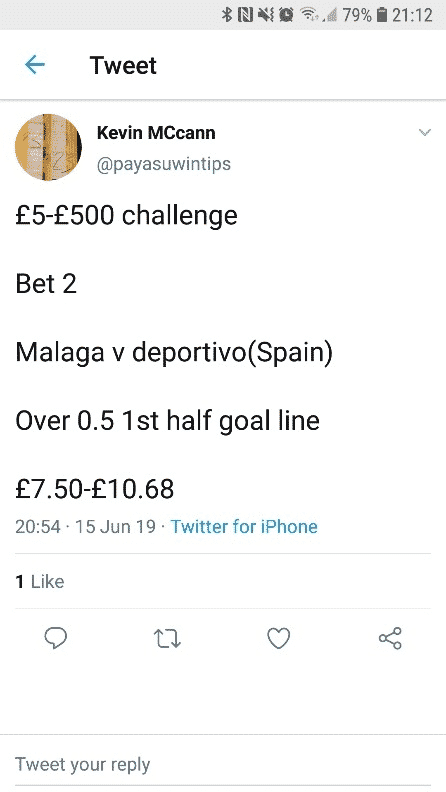 These challenges never win but you could follow them (lay, dutch or gamble) and then only stake the profit and not the initial stake.
If you should be so lucky to get on a streak of wins, don't be a mug and gamble the whole amount. Keep at least some of the winnings. Remember the aim is not to gamble here.
Don't follow the crowd
Imagine this scenario; the odds on Hoffenheim to win are 2,50 and the lay odds on Hoffenheim are also 2,50. A perfect match, which means you would not make a loss if you place a mug bet. That is great, so you place a few mug bets. However, you found this great match by using the Oddsmatcher, which is also used by thousands of other people. These other people will also have found this perfect match and place mug bets. Following the crowd in this scenario  will actually count against you as it looks suspicious to the bookmakers that all of a sudden a large number of people place similar bets. The bookmaker will then check the lay odds (yes they always know what the lay odds are) and as they are a perfect match, they will assume you used an odds comparison tool, which will very likely lead to a gubbing.
So, rather than follow the crowd, you should bet on less popular matches. The advantage is that they will also be less value so you have also covered tip number 1.
Mug bet on less popular matches.
Always bet on the same team
Many punters have a favourite team that they bet on every week.
You will do well to copy that strategy and choose a team to bet on week in and week out.
A suggestion for a strategy is to pick a team for each of your bookmaker accounts and then always bet on that team with that bookmaker.
That way you spread out the risk of hitting poor odds with all of your mug bets in the same week.
3.   Don't bet odd amounts
Don't stake odd amounts like €25,57 with the bookmakers as this will stand out like a sore thumb.
It is fine to do so when you lay your bets with the betting exchanges.
The reason you shouldn't bet odd amounts is that this is a clear sign that you are either arbing or dutching.
See stake example from the Dutch Matcher below.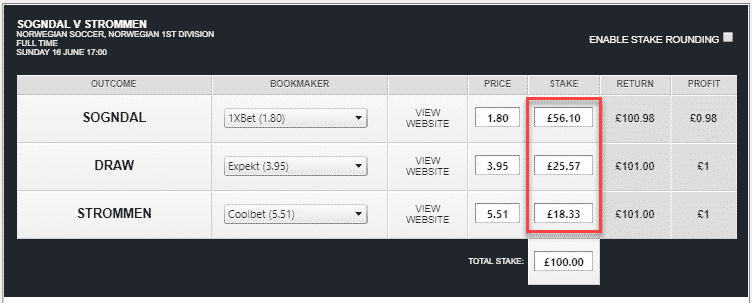 If you are dutching, then make sure you round up the numbers to the nearest €5 by ticking the box shown below.

4.   Bet on your mobile
The perfect punter for the bookmaker is the guy having a pint and a bet while watching football. This type of punter normally does not spend a lot of time on research or shop around for the best odds.
Bets will typically be placed via mobile phone.
Hence, once in a while place a back bet on your phone, while having the betting exchange and Oddsmatcher open on your laptop. This strategy works even better if you also place bets close to kick-off.
5.   Are you profitable for the bookmaker?
Every now and then make sure to check your deposit and withdrawal history in your bookmaker account.
If you take more money out of a bookmaker than you put in then you should be extra careful.
Just because you deposit more than you withdraw doesn't mean you are safe.
Taking value has nothing to do with winning or losing. The premise when you take value is that you will be profitable in the long run.
Read our guide on the topic here.
6.   Hang out on the website
Serious gamblers rarely "hang out" on the bookmaker's website.
They log in, go straight to the bet they want to place and then place their bet and log out.
As Matched Bettors, we often do the same as we already know which game to bet on (from the Oddsmatcher) when we go to the bookmaker's website.
Instead spend some time on the website.
Click on various banners and offers.
Visit the casino or games tabs.
7.   Be careful if arbing
Consider the risk before arbing.
You may make a few € fast but it is not worth it in the long run if your account gets gubbed.
Arbing can be done when your account is already gubbed, to squeeze out some last profit.
Read also our arbing guide.
8.   Use the DoppelWetten Forum to find offers
Logging in frequently without placing a bet will looks suspicious.
This is especially the case if you log in, then check out the promotional offers and log out again without placing a bet.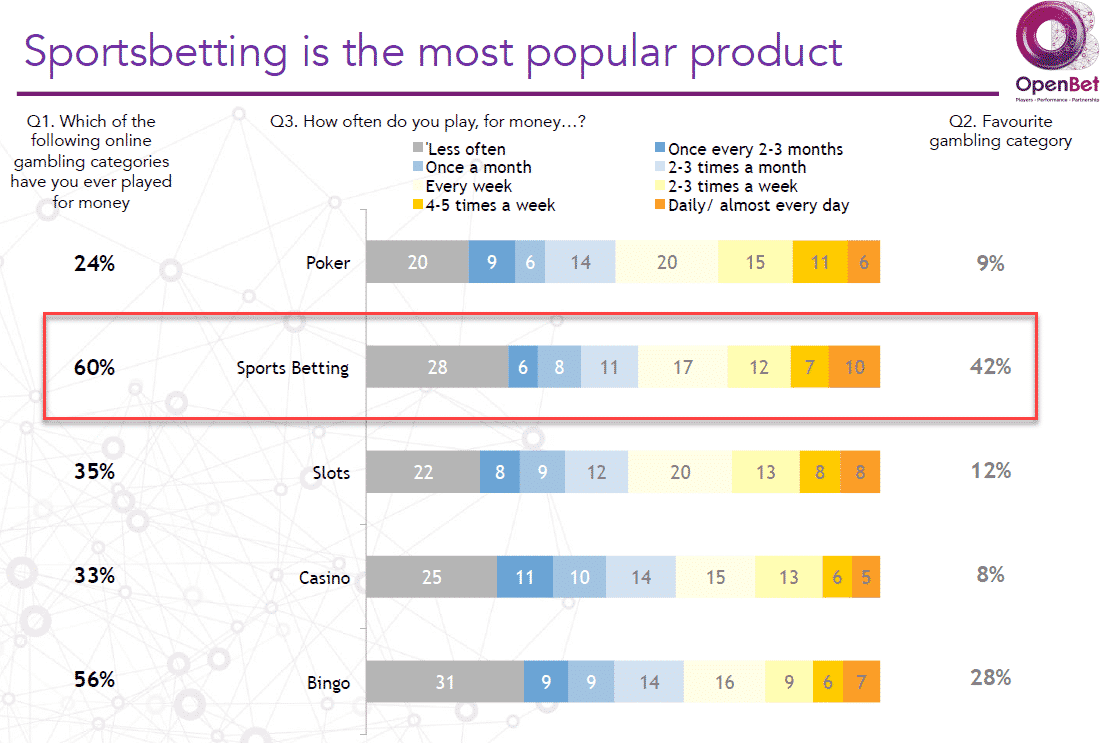 Credit: OpenBet
9.   Be wary of Dutching
Similar to arbing, you should be careful when dutching.
When you dutch, you profit from odds that are higher than the market. The bookmakers will quickly spot if you constantly bet on odds that are higher than the market.
The bookmakers may not know that you are Matched Betting but they can safely assume that you use an odds comparison tool, in this case the Oddsmatcher, which makes you an undesired customer.
Placing the odd dutch should be ok, especially on high profile games and as close to the start of the game as possible. However, make sure to throw in some mug bets or standard Matched Bets as well.
10.   Be careful on social media
Our online activity and identity can easily be tracked via social media.
Have you ever tried to Google yourself to see what comes up? It can be a bit of an eye-opener.
Do you have a Facebook account? So does the bookmaker.
Do you use Twitter? So does the bookmaker.
Whatever social media you are using, you guessed it, the bookmakers are using the same platforms.
Sure, bookmakers employ social media people to promote their brand and answer questions and comments.
But they can also use the same social media to learn more about you and your betting behaviour.
Hence, you should always be careful when following Matched Betting groups on Facebook or accounts on Twitter.
Also, you should never actually mention that you are Matched Betting, even when you want to share your profit with the world.
11.   Don't share an IP address with other (Matched) Bettors
All bookmakers have very sophisticated tracking software so they always know exactly who is placing bets on their site.
As a result, they can track where each bet is placed from and will quickly close suspect accounts.
If different accounts use the same IP address, this could be a result of multi-accounting i.e. the same person having more than one account with the same bookmaker.
When found out, multi-accounting will lead to immediate account closure.
Even if you do not engage in multi-accounting activities, you could be targeted by the bookmaker.
For example, if a family member or flat mate also has an account with the same bookmaker.
Another example is that you log into your bookmaker account from a friend's house, while using their WIFI.
If in doubt, then use mobile data when placing your bets.
12.   Mug depositing
A mug deposit is when you deposit more than the minimum required deposit.
For example, for a deposit €100 to get €100 bonus, you may deposit €150 or €200 instead of the minimum required €100.
The benefit of mug depositing is that you don't stand out as someone who is just after the offered bonus.
An additional benefit is that you appear to be wanting to place more bets when you have funds in your account, rather than get the bonus and run. Also, by having funds in your bookmaker account, you can quickly place new bets without having to deposit again.
13.   Check your betting history
An often-overlooked strategy is to actually take a look at your betting history.
With every bookmaker, you can go to your account and review your past betting history.
This is a good exercise in looking at your account from a bookmaker view point.
For example, if every other bet is a qualifying bet, which is then followed by you placing a free bet, then that is the way the bookmaker will see you. As someone who is only placing a bet when there is a free bet offer.
Another example is that you normally place €5 or €10 bets, but in connection with an offer, you all of the sudden place €50. This will again stand out.
On the other hand, if you normally place qualifying bets of €20 to get a free bet, then a €2 mug bet will stand out as unusual activity and will not "fool" the bookmaker.
14.   Gamble
The best way to look like a mug bettor is to be one.
Although we do not support gambling, it can sometimes be a necessary evil to keep your accounts open for as long as possible.
If you gamble i.e. not lay the bet, then it is a good idea to choose the bet types you see below.
Bookmakers love when you bet on this type of bet as many of them are a build-up of multiple bets, e.g. to win the first bet on the list, John Terry has to both score a goal and get a card in the game.
Also, you cannot lay any of these bets, so it is a sign to the bookmaker that you are definitely not Matched Betting.
Take the suggested accas or request a bet or other unlikely bets and the bookmakers will love you.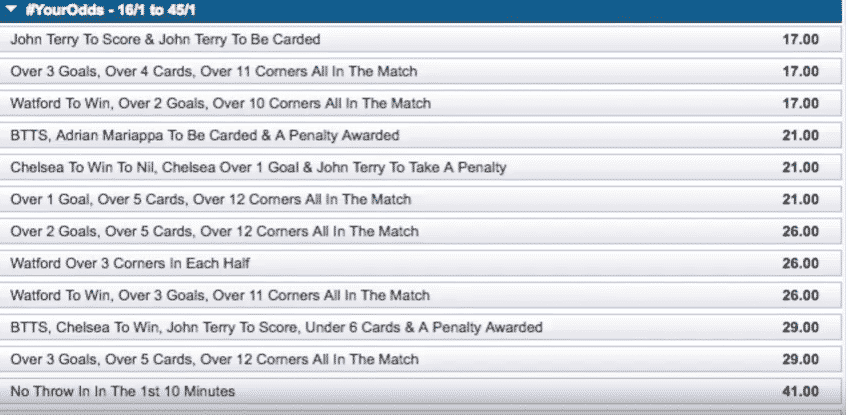 But do be very careful if you choose to gamble. It can quickly escalate and you don't want to risk all your nice Matched Betting profit.
15.   Bet on Accas
Bookmakers love it when you bet on accas.
The reason?
Simple, your chance of winning is heavily reduced with every game you add to the acca.
Professional gamblers never bet on accas as it is extremely unlikely that you will be profitable in the long run, no matter how good you are.
Some bookmakers will promote pre-made accas, e.g. that 4 favourites win their games in the Bundesliga. Only the worst punters (i.e. losing punters) would ever consider gambling on those bets.
This is good news for us and exactly why you occasionally should use those accas for mug betting.
16.   Bet on a proposition bet
A proposition bet or prop bet is a bet on something to either happen or not happen.
You have probably made numerous prop bets without even thinking about them as prop bets.
Have you ever bet that someone cannot eat 5 hot dogs? Or that you can run 10km?
If so, you have made a prop bet.
In sports betting, a prop bet will typically not have a direct effect on the final result of the game.
Here are some football examples:
Which team scores first? Which team will start with the ball? Which team will get the next corner kick?
The bookmakers love when you bet on proposition bets, as the outcome is largely down to luck.
17.   Avoid contacting the bookmaker if possible
Staying under the radar is the best way to avoid gubbing.
One way to avoid drawing attention to yourself is to contact the customer support as little as possible.
This is especially important in relation to promotions and free bets.
If you are unsure about the Terms and Conditions of a specific offer, then ask in the Forum.
Asking customer support will only flag your account.
Free bets can take up to 24 or sometimes 48 hours before they get credited to your account. Occasionally longer, or they can be delayed, so be patient. The worst thing you can do is start chasing the bookmaker for your free bet. Read the Terms and Conditions as they often state when you can expect to receive your free bet.
If you haven't received a bonus or free bet you are rightfully owed, then it is of course ok to contact the bookmaker.
But before doing so, double check that you have done everything correctly to qualify in the first place.
18.   Don't take every offer
Just because a bookmaker has an offer doesn't mean you have to jump on it.
The best preservation strategy is sometimes to skip an offer. This is especially the case if the offer is e.g. on golf, but you have never placed a golf bet before.
Then it looks suspicious that all of the sudden you place a golf bet when there is an offer.
19.   Keep withdrawals to a minimum
The most common time to receive a gubbing email from the bookmakers is right after a withdrawal.
Why is that?
Because it is common practice that your account is reviewed before a withdrawal is approved.
Hence, we recommend that you only withdraw your money when you really have to.
In addition, it is always good to have some money in your bookmaker accounts.
This makes it much faster to place your next bet as you don't have to make a deposit first.
Also, it is an indication to the bookmaker that you plan to place more bets, which of course they like.
20.   Place bets closer to the event start
Most regular punters place bets close to the start of the event.
As a general rule when mug betting, you should also place your bets as close to kick-off as possible.
That way, your bet will get mixed in with numerous other bets and stand out less.
The below documentation is from a Tottenham and Liverpool game.
As you can see, the betting volume increases drastically 30 minutes before kick-off.
Therefore, if possible, you should also try and place your mug bets 30 minutes or less before the games starts.
| Time before game | Betting volume |
| --- | --- |
| 6 days | €5,801 |
| 2 days | €84,199 |
| 1 day | €168,444 |
| 30 min. | €890,833 |
| 25 min. | €977,747 |
| 20 min. | €1,047,226 |
| 10 min. | €1,174,847 |
| 5 min. | €1,203,050 |
| Kickoff | €1,293,370 |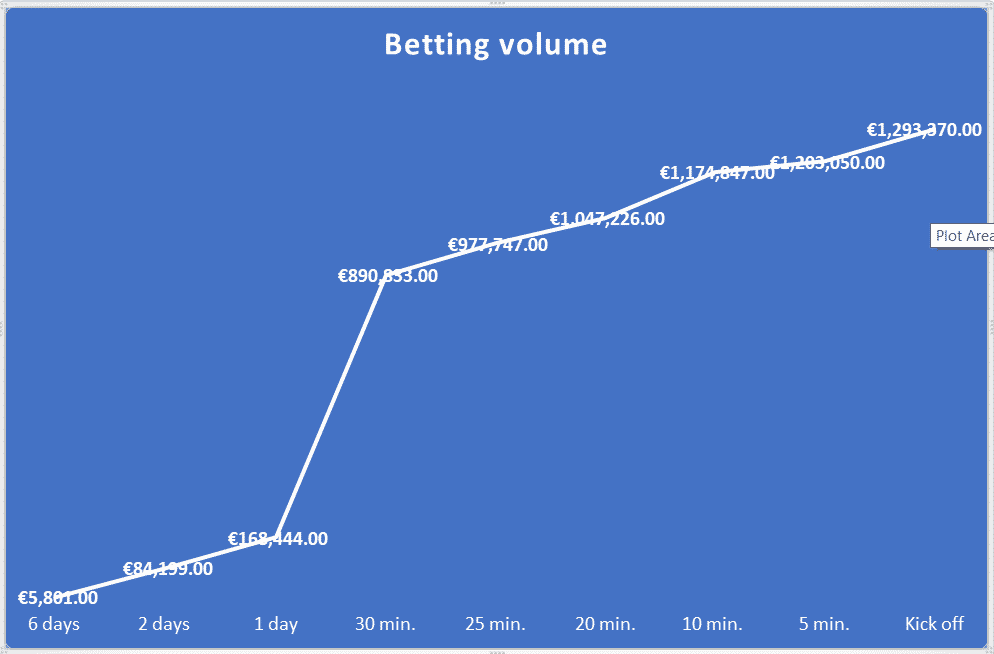 21.   Only bet on the big football leagues
Now you may be a huge fan of the Latvian second division but many other people are not.
Even though bookmakers these days offer every imaginable football league in the world, the vast majority of punters only bet on the big leagues.
For that reason, bookmakers spend most of their resources monitoring team news, betting exchange odds, betting volume etc for the big leagues, to ensure their odds are as sharp as possible and they don't get caught out if e.g. a key player gets injured.
If you then bet on lesser known leagues, the bookmaker could think you are a savvy punter that specialises in that league and knows more than them and that the odds do not reflect the actual probability. Yes, this would be you taking value.
Stick to the big leagues to avoid arousing any suspicion.
Bundesliga Bundesliga (if you live in Germany) Premier League La Liga Serie A Champions League Europa League
22.   Just because an offer has an upper limit, that doesn't mean you have to bet at that amount
Almost every offer will have an upper limit attached to them.
If in doubt make sure to check the terms and conditions.
What do I mean by an upper limit?
Here is one example, bet €20 and get a free bet of €20. In this case the upper limit would be €20.
Another example is deposit €50 and get a 100% bonus of €50. Here the upper limit is €50.
Again, you should consider your betting pattern with the bookmakers.
If you normally bet €10, then a five-fold increase in bet size, from €10 to €50, will stand out.
But just because the upper limit is €50 doesn't mean that you have to bet that amount.
Instead stick to your normal bet size and place €10 bets to fulfil the wagering.
Alternatively, vary your bet size so a €50 bet doesn't stick out as much.
23.   Create a bookmaker profile
First of all, what do I mean by creating a bookmaker profile?
By a bookmaker profile, I mean your betting patterns. For example, a pattern could be the following:
Mainly bet on football Only bet on the Bundesliga Stake €10 per bet Place bets from a laptop Only place bets during the weekend
Some patterns are sub-conscious choices while other can be due to time restrictions (e.g. only place bets during the weekend) or personal interests (only betting on the Bundesliga).
But it is important to take note of your patterns, because the bookmakers do.
For example, if you only ever bet on football but then suddenly choose to bet on basketball because there is an offer, that will stand out from your normal pattern and raise a fed flag with the bookmaker.
Therefore, it is recommended to either place bets on a variety of sports if you wish to take offers that are only available for a specific sport e.g. basketball.
Or…
Simply avoid bookmaker offers for other sports than your main sport, which most likely will be football.
24.   Be careful when using links from Matched Betting or odds comparison sites
Yes, this includes DoppelWetten.
As explained under tip number 1, we add some extra text to ensure the bookmakers cannot see that you have been re-directed from a Matched Betting site.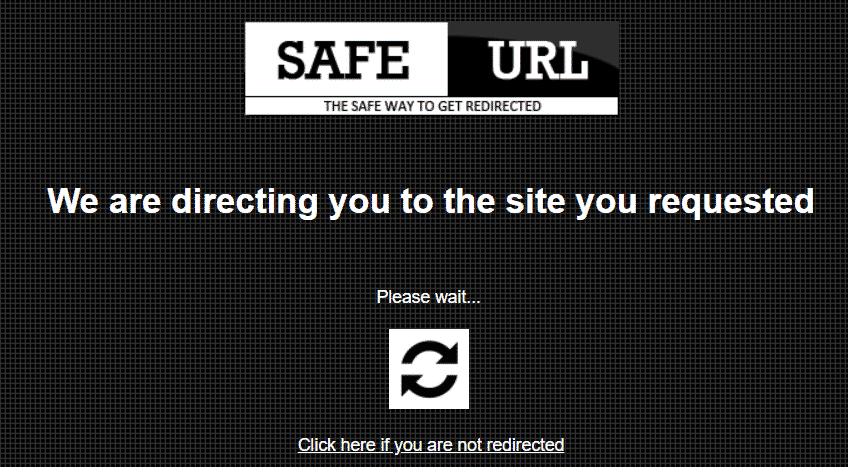 However, you should always be careful when clicking on links from Matched Betting and also from odds comparison sites.
The bookmakers collect such information and although it is meant to be for marketing purposes, they do seem to use the information to close the accounts of unwanted punters.
25.   Play around on the casino
A great way to ensure your account is in good standing is to play around on the casino or games.
Many bookmakers will promote their casino or games when you open an account, to find out what kind of punter you are. If you regularly use the casino, you will be marked as a good customer.
As such this strategy is especially great when you open a new account.
However, even with old accounts it is a good idea to regularly play the casino or games.
Make sure you learn the perfect blackjack strategy before you start playing.
26.   Place free bets on accumulators
When you have a free bet, the general advice is to place the bet on odds over 4.00 and ideally over 5.00 to increase your profit.
However, you can increase your profit by placing free bets on accumulators.
Besides increasing your profit, this strategy can also have another positive effect.
How often do you place a regular Matched Bet on odds over 6.00?
Exactly, hardly ever.
Therefore, placing every free bet that you earn on odds of 5.00 or above sticks out. Either you are gambling and hoping a huge underdog can win the game or you are Matched Betting and use higher odds to increase your profit.
But by placing your free bets on e.g. a two-game accumulator, your bet will stand out much less with the bookmakers.
27.   Click on links from promotional emails
The numerous promotional emails from bookmakers can at times be a bit annoying.
However, they are not only a good source of offers and free bets, they can also be used to improve your account status.
Click on the links in the emails, which will be a sign to the bookmakers that you read their emails but are also interested in placing bets with them.
If they promote a special football game or a new casino feature, then make sure you bet on the game or try out the casino feature.
This strategy could result in special offers or larger free bets.
28.   Bet on low odds
Every week we see huge favourites with very low odds and every week at least one of those favourites fail to win.
Betting on Barcelona, Real Madrid, Bayern Munich and Manchester City to win a game at odds of 1.20 is something the bookmakers love, especially if you combine them into an accumulator.
Betting on very low odds is usually a clear sign that you are a regular mug punter as these odds are often too low and offer no value. The odds have been artificially lowered because so many punters take these bets and the bookmakers therefore need to reduce their liability.
29.  Use a different device for betting exchanges
One of the more extreme but also highly effective methods is to keep the bookmakers and the betting exchanges completely separate.
The idea is to use e.g. one laptop for all your back bets and then another device, laptop, tablet etc, for all your lay bets, Matched Betting sites etc.
Ideally the second device should be a mobile device not connected to WIFI. The reason is that when you use mobile data, your IP address is constantly changing, which means that the bookmakers will not be able to get much information from you via cookies or analytical tools like IESnare.
This way you are absolutely certain that the bookmakers cannot track your IP and online history and link you back to any Matched Betting related activities.
30.   Remove IESnare
This strategy has its devoted fans, while others compare it to wearing a tinfoil hat to avoid government surveillance.
What is IESnare?
IESnare is an analytical tool, which runs in the background of your computer. It is created by a company called Iovation. IESnare is a script placed by the bookmakers and it works much like a cookie.
IESnare is used by bookmakers to identify abuse or fraud such as identity theft, money laundering, setting up multiple accounts etc.
The script tracks and gathers information about users such as browsing history, i.e. websites visited, and the time spent on the visited websites.
However, there are claims that the bookmakers also use the information they gather to "spy" on their customers and close the accounts of unwanted customers. An unwanted customer could be matched bettors or someone that uses odds comparison sites such as Oddschecker.
How to find IESnare?
If a bookmaker uses IESnare, they should mention it in their terms and conditions, so that is a good place to start. However, even if the terms and conditions do not mention IESnare, you cannot be sure that the script is not installed on your device.
To check your device, go to your file search function and type in "mpsnare".
If IESnare has been installed, the search result will show one or more of the following folders:
#mpsnare.iesnare.com #ci-mpsnare.iovation.com iesnare.com ci-mpsnare.iovation.com
How to remove IESnare?
Explaining how to remove IESnare from your device is beyond the scope of this guide, but a Google search will give you a wealth of tips and tricks on how to remove it.
There are some of the better articles in English here and here, and in German, here and here.
Should you worry about IESnare?
It is impossible to know whether the bookmakers actually use the information they collect against their customers. However, in my opinion it is highly unlikely that they do.
First of all, it would be a huge violation of their customers' privacy and I don't believe they would take such big risks to close a few accounts.
Secondly, all bookmakers have a large range of sophisticated IT systems and programmes available to them to track your bets and behaviour on their sites. Therefore, they should have plenty of information available if they do want to gub you or restrict your account.
Thirdly, any removal of IESnare from your device could be seen as an attempt to hide any fraudulent activity. So, your account could be closed by the fact that you have removed the script.
Which strategy should I use?
Phew, where to start and which strategy to implement?
There is no right or wrong answer.
Only the professional traders know exactly what they are looking for in an account and how one could avoid being gubbed.
Hence, you will be gubbed at some point even if you follow the tips above. Don't be discouraged by this. Some people prefer to get as much cash as quickly as they can and don't pay any attention to account preservation, while others are satisfied with a smaller immediate return if it means they avoid being gubbed.
Your approach to account preservation is entirely up to you. Personally, I am in it for the long run and hope to keep every account for as long as possible.
Hence, I personally don't use one strategy. I use a mix of a number of strategies.
I place mug bets, vary my betting stake and the sports I bet on and generally bet as close to the event start as possible.
In addition, I also make sure to spend some time on the website and try different casino games and slots.
I avoid contacting customer support and avoid making withdrawals unless I really have to.
I don't really think about many of these things anymore because they are now just an integrated part of my Matched Betting routine.
I suggest you pick a strategy and then start by implementing that one into your Matched Betting routine. Little by little you can then focus on a new strategy.
As mentioned in many of the strategies, the best way to avoid being gubbed is to not stand out or draw attention to your account by doing anything out of the norm.
Always consider what a regular punter would do.
If you have any questions or comment to this guide, please go to the Forum.