18 actionable Matched Betting tips for beginners (2022)
Want to know the best Matched Betting tips for beginners from the experts?
Great! Then you are in the right place.
Today I am going to share with you 18 insanely actionable Matched Betting tips.
Including some of my personal favourite tips that I have not shared with anyone before.
The best part?
All of these are proven tips that work great in 2022.
Acknowledge that you are learning a new skill
I remember feeling overwhelmed when I first started Matched Betting.
I wanted to start making money and fast.
But there were so many different offers with different strategies, new words and tools. 
18 actionable Matched Betting tips for beginners (2021)
Click To Tweet
So how did I get through this period?
I recognised I was learning a new skill, which is earning money with Matched Betting. Whenever you are learning a new skill there is learning curve.

You cannot expect to be able to play Stairway to Heaven if you have only played the guitar for a week. Similarly, it will take some time before you learn the Matched Betting skill. 
Start realising that your learning curve will look something like this: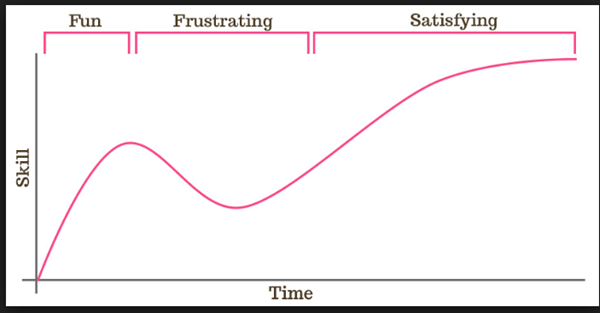 Learn the Matched Betting jargon
What the heck is gubbing? Something related to a Guppy?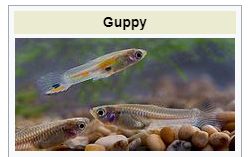 Is lay betting and mug betting the same?
Although I had been betting on sports for years, there were a lot of words and concepts I had never heard of before I started Matched Betting.
And if you have never placed a bet before you will be bombarded with phrases and words you never even knew existed.
How do you learn the Matched Betting language?
You have a look at the DoppelWetten Matched Betting Glossary.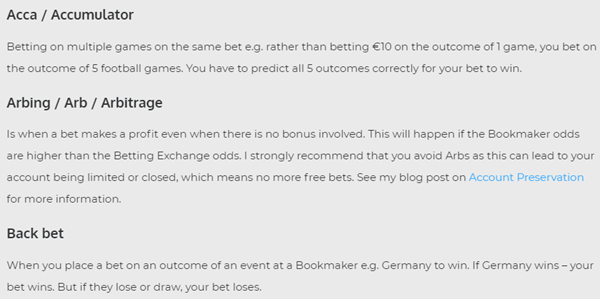 No, don't worry! I am not asking you to study every word as if you were about to take a Latin exam. But by all means do browse through the list to familiarise yourself with the structure.
Just start off with a few words and soon you'll master the "new" language.
Manage expectations
Rome apparently wasn't built in one day. And you will certainly not make €500 in your first week of Matched Betting.
"But in the Forum everyone is earning more than me…"
Don't worry what other people are earning but take comfort in the fact that it is possible to increase your earnings. 
Below are the constraints that influence how much you earn with Matched Betting.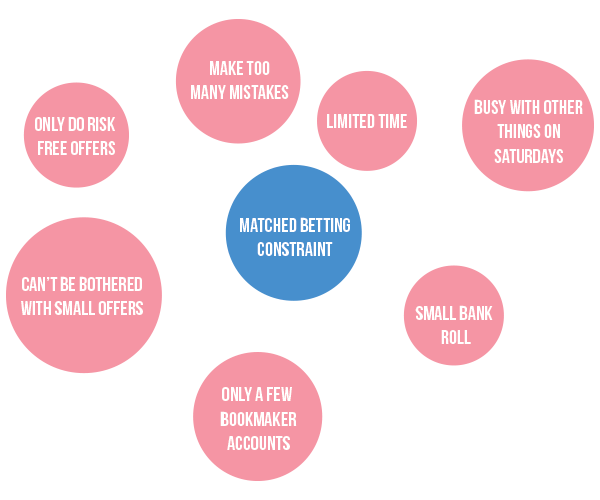 How to increase your profit?
Identify which constraints are relevant to you and look into a way to remove those constraints.
Limited time
Time is a well-known constraint. Are you able to prioritise your time differently?
Small bank roll
Stop withdrawing and spending your Matched Betting earnings. You need money to make money. I personally always have at least €1000 in my Orbit account. I prefer to have around €2000.
Only a few bookmaker accounts
You cannot earn money from a reload offer if you do not have an account with the bookmaker – simples. Prioritise signing up to more bookmakers. I personally have over 60 bookmaker accounts.
Busy with other things on Saturdays
Always busy on Saturdays? Many offers are available on Fridays, so place your bets Friday evening or get up an hour earlier on Saturdays.
Make too many mistakes
Do your profits suffer because you make mistakes? Slow things down for a while. Take fewer offers. Re-read the bookmakers terms and conditions and ask in the Forum if there is something you do not understand.
You only do risk-free offers
If you only take the risk-free offers, you will of course make money. However, to increase your monthly profit you should consider trying offers that are not risk-free e.g. casino offers.
Can't be bothered with small offers
Is a €5 free bet not worth your time? Think again.
Here is what I did the first month I was Matched Betting.
I read about and watched videos about Matched Betting. This was great to get a basic understanding.
But if you are like me, then you learn faster by doing things yourself.
So, I changed my tactic.
I took one offer. Then I focused only on that offer. Once I completed the offer and felt I understood the strategy, I moved on to the next one.
Don't rush (and avoid mistakes)
Matched Betting is not going anywhere and if you miss an offer today there will always be another one tomorrow.
I've seen it so many times – people, especially when first starting out, want to make a lot of money immediately and do too much at the same time.
This approach often leads to mistakes. Read and follow the instructions given in our guides. Take your time. 
Keep learning
Don't become complacent. Keep improving on your new skill.
Read all our guides and blog posts. Watch our YouTube videos and read useful threads in the Forum. The more you understand, the more money you will make.
To tell you the truth, I have been Matched Betting for years and I am still learning.
Offers change and new ones see the market. Explore how to increase your profit from existing offers.
Do all sign up offers
On Doppelwetten there is a long list of bookmaker sign-up offers.
In fact, there is over €5000 available to you in sign-up bonuses only.
With each offer you complete, you will get faster at finding and placing bets.
Completing all sign-up offers will increase your Matched Betting profit.
This is because you will increase your float, which in turn means that you can take part in more reload offers.
The same goes for the number of bookmakers you have signed up with. The more bookmaker accounts you have, the more reload offers you'll be able to take part in.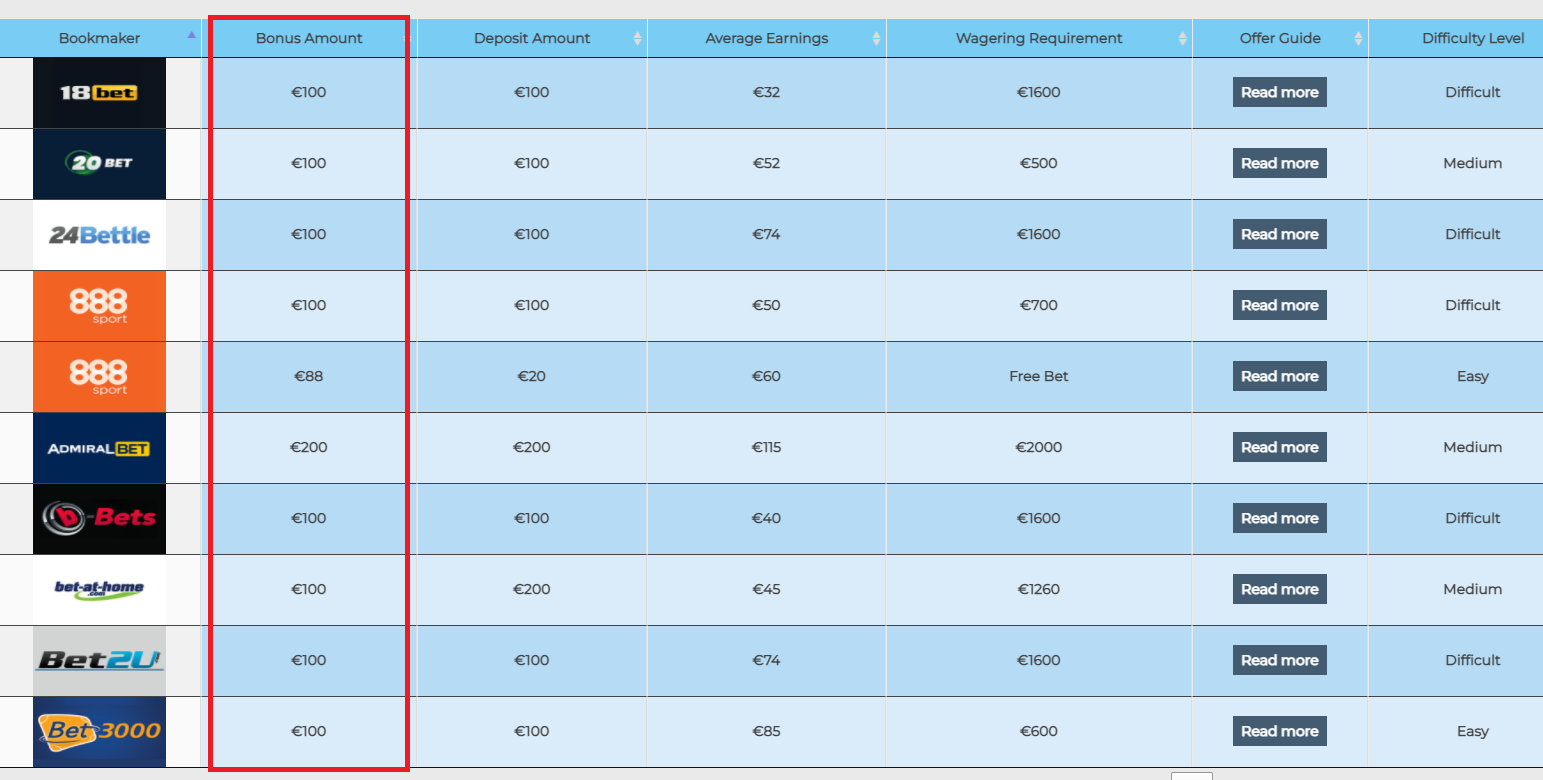 Don't Gamble
Matched Betting is not gambling and here at DoppelWetten we do not promote such.
It may be tempting to start placing a few bets or not laying a back bet.
This is dangerous and may lead to financial loss and, in the worst-case scenario, a gambling addiction.
A gambling addiction should be taken very seriously. If you ever need help please contact the Bundeszentrale für gesundheitliche Aufklärung. You can find their contact details here: https://www.spielen-mit-verantwortung.de/startseite.html
Also, please read our guide on how to avoid gambling.
This is Matched Betting and not gambling. Manage your risk and exposure for less stress.
Don't ever Match Bet when you are drunk. Naturally you will not be able to concentrate, and you are more likely to place risky bets and to gamble.
If lay odds change, don't just think, "Oh well, I might as well just punt this bet then". Matched Betting is all about limiting your risk.
Get a new email address
When you create an account with a bookmaker, you have the option to sign up to their newsletter and promotional emails.
With an increasing number of bookmaker accounts, you will start receiving large numbers of emails. This is good because these emails are filled with offers and free bets. You will get them straight to your inbox rather than having to find them yourself.
However, it can be annoying that all these emails mix up with your personal ones. We recommend that you create a separate email account which you only use for Matched Betting.
Get organised – Use a spreadsheet for tracking
It is very important to be organised when you do Matched Betting.
You want to know which bookies you have so far signed up to, how much money you've made already, ensure you don't miss any offers or forget to use a free bet.
To track all of that, I highly recommend that you use a profit tracker spreadsheet.
I have made my own simple spreadsheet which works for me. You download it for free from our profit tracker guide. 
Feel free to make your own adjustments or make a new one that fits your needs.
Just make sure that adding information to your spreadsheet doesn't take longer than actually placing a Matched Bet.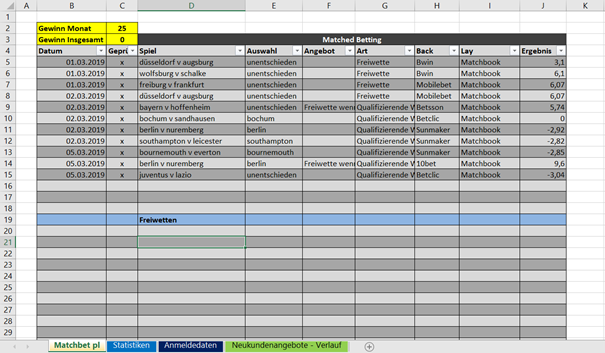 Of course you can also use our Profit Tracker tool which links with our new Oddsmatcher.
Don't be afraid to make mistakes
We all make mistakes at times. I have been Matched Betting for years and it still happens to me. Don't worry if you make any.
Instead, understand what went wrong and learn from it, so you avoid making the same mistake again.
Be ready to be frustrated and make mistakes. You will soon learn from them. Matched Betting is a steep learning curve, but it will soon seem like second nature to you. I found the first few months really frustrating, but I am very glad I kept going.
If you're in a bad mood or you're tired, you are likely to make mistakes because you do not concentrate. Step away or limit yourself to a few offers that you can place easily and then leave it for another day.
You will make genuine mistakes. Don't beat yourself up about it and take it as a necessary cost of learning the ropes.
Double check everything
I can't stress enough.
Double check everything.
Especially at the beginning, it is important to double check your bets to ensure you have placed them properly.
That includes double checking the T&Cs (especially if you have done the offer before) as bookmakers amend them from time to time.
Also, double check the back and lay bets are according to the calculations in the Oddsmatcher or Matched Betting calculator.
Lastly, make sure to check that you got the profit you expected. If you didn't, look into what went wrong.
Have your ID etc. ready to send off
When you sign up to a bookmaker they ask you to verify your account.
This may happen as soon as you sign up, when you try to withdraw your money or at any other time.
This is perfectly normal as they are required by law to do so.
It is to ensure you are who you say you are, that you are over 18 years old; and to avoid money laundering.
You can save a lot of time if you have a copy / scan of the below documents readily available on your computer:
Personalausweis or passport Card used to deposit – remember to cover some of the card numbers when taking a photo Proof of address (this could be a bank letter or a utility bill with your full address on it or your Meldebestätigung), dated within the last three months
I find that the easiest is to just take a photo of these documents with my phone and save them in a folder on my computer.
Make sure all four corners are visible when you take photos of the documents. If they are not, the bookmaker may not accept them and you will have to take another photo.
Save your profit (at least at the beginning)
Unless you start off with a big float I recommend that you save your profits, at least at the beginning. The more bookmaker accounts you have, the more reload offers you can take part in.
However, you will soon discover that your float needs to be increasingly bigger in order to lay all the bets.
Refrain from withdrawing and spending any money until you have a float of at least €2000. Ideally, at least 50% of your float should be in your Betting Exchange account.
Weekends – and especially Saturdays – are the busiest time of the week and it is annoying to miss an offer due to missing funds.
Make sure you have a large enough bank roll before taking on bigger sign up offers.
But…
Once you have a good size bankroll be sure to also spend some of your profit or find other investment opportunities.
Treat yourself/family when you get the chance. I am sure they will love you for it and it will be easier to get time to do Matched Betting.
Avoid just hoarding money and losing sight of the value of money.
Be selective
Don't stretch for offers and take large qualifying losses.
Be selective in the offers you take (although it is tempting to take all offers).
This is especially the case for offers that are not risk free e.g. trigger bet offers.
You don't want your profit to be eaten up by big qualifying loses. Then rather play it safe and move on to the next offer. You can also come back to the offer and check whether the Oddsmatcher has found a better match so your QL decreases.
A golden rule is that you should not accept a QL of more than €0,75 to €1 per €10.
However, before you turn down every offer remember this.
Every bookmaker is different.
So, with some bookmaker you can find really close matches, maybe 97-98%. With Bet365, for example, you can often find really close matches.
By a close match I mean that the back and lay bet odds are as close to each other as possible.  
However, with another bookmaker you may only find up to 91 or 92%, for example with 10Bet.
If you use a new bookmaker then check out the Oddsmatcher, so you get an idea of how close a match you can expect from that bookmaker.


Join the community
There is no shame in asking for help when you are unsure or meeting a challenge.
Use the Forum and ask your questions, no matter how stupid they may seem.
The Forum is full of other Matched Bettors looking for and providing information; and everyone has questions at some point.
By reading through old posts you will also learn from other people's questions, experience and mistakes. This could ultimately save you money.
Don't be afraid to get involved even if you have never placed a bet before. 
You'll be amazed how fast you understand Matched Betting once you get started. After just a few months you'll look back and smile at your "simple" beginner questions. This is a good time to help others that have just started out. Please give back to the Matched Betting community by sharing your experience.
You can help improve DoppelWetten. We value feedback. So, if you spot a mistake or have suggestions on how we can improve our service, please get in touch either via the Forum or email us at info@doppelwetten.com.
Try and have fun
Who couldn't use a bit more money?
Tell your friends and family about Matched Betting and help them get started. They will be forever thankful, and you may just earn yourself a free beer or favour.
At DoppelWetten we do have an Affiliate scheme, with the potential for some great earnings.
So why not increase your monthly income by helping others make money?
Ensure you understand the bookmakers' T&Cs
Not reading or not understanding the Bookmakers' T&Cs is probably the most common mistake amongst Matched Bettors. It can lead to frustration and you can potentially lose money. Make sure you read our guide to understanding Bookmakers' T&Cs. Once you read them a few times you will know exactly what to look for and it will only take you seconds to skim through them.
Before you start any offer, it is important that you understand them. You should know:
what you can get from the offer, e.g. a free bet or bonus; what you have to do to get the free bet or bonus; what the maximum value of the free bet or bonus is; how you turn the free bet or bonus into withdrawable cash, e.g. whether there is a wagering requirement attached to any winnings; whether there are any other important T&Cs, e.g. minimum odds or bet on a specific football game; whether there is a specific bet type that counts towards any wagering requirement, e.g. only accas with a minimum number of selections; whether there is a maximum stake per bet that will count towards the wagering requirement; whether there is a maximum bonus amount that will be paid out (this is rare, but crucial to know); what the time limit is for completing the offer.
Don't ignore casino offers
Don't ignore casino and slots offers.
They are not risk free so I can understand if you have your doubts.
I would recommend to start slowly with some free spins.
Later on, when you have a larger bank roll you could then try different offers.
I especially like blackjack offers as blackjack has the lowest house edge of any casino game.
Learn and follow the perfect blackjack strategy to optimise your chances of profit.
But always remember: only play when there is an offer. Otherwise you are just gambling.