10 useful Tips – Online Matched Betting safety
Intro
Are you concerned about using online betting sites?
Not sure how to see whether a site is secure or not?
Don't worry, you are not alone and that is why we have created this online safety guide.
This guide includes 10 great tips that you can start using today.
Let's get started.
Online Matched Betting safety
Many people are concerned about safety and security when handling money online. In fact, in a survey done by the Global Cyber Security Capacity Centre, 61% of responders believed they put their privacy at risk when going online and the two largest concerns are that someone would get access to their email account or information provided for one purpose is being used for another purpose online.
This concern often increases when you mention online bookmakers.
It is a good thing to be a bit sceptical in the online world, but the reality is that any successful online business must protect its reputation and guard its integrity, or it will be out of business very quickly.
This is also true for online betting sites.
A number of bookmakers are listed on the stock markets.
One of those listed bookmakers is William Hill, who is listed on the London Stock Exchange.
If William Hill got a reputation as being unsafe it could seriously harm the stock price and the business.

For that reason, bookmakers spend large sums of money on online security and to protect the customers' personal details.
How DoppelWetten can help keep you safe
Before signing up to a bookmaker you should always do a bit of research.
Here at DoppelWetten we take your security very seriously and therefore only recommend betting sites we use and have tested ourselves.
We have a list of blacklisted bookmakers that we do not recommend using. Some black listings have happened based on the experience of other members.
Ensure you keep up to date with this list, and don't hesitate to ask in the Forum if you have any questions before signing up with a specific bookmaker.
10 top online safety tips
Tip 1 – Make sure the website is secure
There are several ways to spot if a website is secure or not by looking at the URL i.e. the website address.
A safe site will have one or a combination of the below.
Start with https:// Have a padlock symbol Turn green
Example
In the URL at the top of your browser you will sometimes see https:// rather than http:// (including the s). The s actually stands for secure.
This indicates the site is secured using SSL encryption and all data passed between the web server and the browser is kept private.
In the URLs below, you can see that both Bet365 and Tipico use SSL encryption to safeguard their customers' personal information.


Here on DoppelWetten we naturally also care greatly about keeping your information safe, which is why we also use an SSL encryption on our site.

Tip 2 – Don't use debit cards if other methods are possible
If possible, you should use other payment methods over a debit card as this is generally a safer option.
Paying online with debit cards is of course also a safe option. However, there are safer options out there that you should choose if possible.
The reason is that a debit card is directly linked to your bank account whereas a credit card or eWallet is not. Hence, in case of stolen identity, someone could get direct access to your bank account. With other payment methods this is not possible.
Also, a credit card has a limit on how much you can spend, whereas some debit cards do not. So, if you have money in your bank account, you could in theory spend everything.
When you use a credit card, you are, in reality, spending the bank's money. You are of course liable to pay it back, but this offers some protections because it's the responsibility of the bank to handle and avoid the fraud and not yours. If your card is misused, the banks will investigate the transactions and you will most likely not be held accountable for fraudulent transactions.
Now you may also be able to get the money back in case of debit card fraud. However, the difference is that with a debit card you will first lose your own money and then try to recover your losses.
Whereas with a credit card you will not lose any money unless the bank decides at a later stage that you are liable.
Make sure you check with your bank how you are protected in case of fraud.
Tip 3 – Do your due diligence
Be a smart customer.
Here are 4 common-sense ground rules to follow before signing up to a bookmaker.
Firstly, check the deposit methods and amounts. Any reputable bookmaker will offer a wide variety of depositing methods. Stay away from places that force you to deposit large amounts of money. A good bookmaker is happy to take very small deposits—perhaps as little as €5. Secondly, have a look at what type of customer service they offer. As a minimum they should offer a service via email, but I would recommend going for one with a live chat as this is usually the most effective method of getting in touch with the support team. If you cannot find any contact information, then find another bookmaker. Thirdly, check if you are able to change the language on the website. Most bookmakers will have an English website but many bookmakers that cater for the German market will also have a German language version of their site. Also, many will have customer support in German. It is not necessarily a red flag if they do not use German. But then again, it doesn't give any bonus points when considering the overall impression of the site. Lastly, although DoppelWetten offer a large number of reviews, it is always a good idea to check other sources, too. Just google the name of the bookmaker and see what information comes up.
If you follow these steps, you will greatly reduce your chances of being ripped off by a rogue bookmaker. Don't assume that being ripped off only happens to "other people". It happens every day, and it can happen to you if you are not careful when selecting a new online bookie. However, don't let fear keep you from playing. Online bookmakers provide an unmatched convenience and unlike bookmaker shops and land-based casinos, online bookmakers will give you money for simply signing up.
Tip 4 – Wi-Fi security
Make sure the internet connection you are using is secure.
Always protect your personal Wi-Fi with a complicated password and only give the password away to people you trust.
Don't use public Wi-Fi in coffee shops, shopping centres and other places to place bets online, use internet banking or anything else requiring you to send personal information.
Public Wi-Fi is often not secure as the same features that makes it desirable for consumers makes it desirable for hackers, namely, that it requires no authentication to log on to the network.
Any information you send while connected to these public networks is at risk of being accessed by hackers.
If you are away from a secure Wi-Fi connection, it is better to use your ordinary mobile data as it is more secure than public Wi-Fi.
Tip 5 – Install an antivirus
Do you really still need an antivirus in 2020?
Yes, according to Windowscentral, you should still install antivirus software on your computer.
The reason is that antivirus software not only protects against nasty viruses that could delete all your personal data, but it also protects against malware, which is the broad term for anything that could harm your computer like computer viruses, worms, trojan horses and spyware.
There is no doubt that Microsoft and Apple take security very seriously and that their operating systems reflect this.
However, you can never be too careful and an extra layer of protection is always preferred.
Tip 6 – Keep software up to date
I am sure we all find it annoying when we are about to close our computer, but you have to wait for it to update or keep clicking on "later" when update messages pop up.
However, software updates are important because they often include critical security improvements. In fact, some malware attacks take advantage of software vulnerabilities in commonly used software, like operating systems and browsers.
Hence, updates improve the performance, stability and security of the software that runs on your computer. Installing them ensures that your software continues to run safely and efficiently.
Tip 7 – Be careful when storing passwords and sensitive information
Your password must be at least 8 letters and numbers including 2 uppercase and a special character.
Sounds familiar?
A survey from the Digital Guardian showed that over 43% of online users have 25 or more online passwords. This number is increasing every year as more and more services become available online.
If you have been Matched Betting for some time you will probably have at least 30 bookmakers accounts alone.
Different accounts have different requirements and it is impossible to remember all the different passwords.
If you are for example using Google Chrome as your main online browser, you will undoubtedly have seen the below offer to save your password.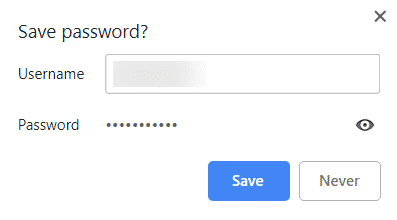 This can seem like a great way to avoid having to remember the passwords. However, in case your computer gets stolen or you forget to log out of your account, everybody can have access to these password protected sites in your name.
Under settings in Chrome you can check how many passwords you have saved.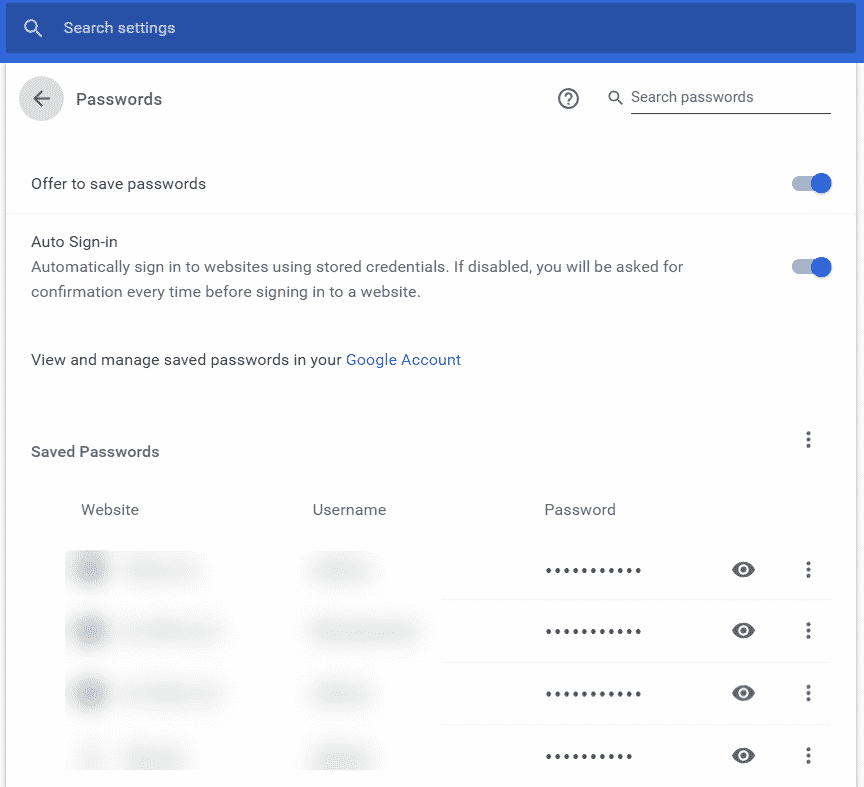 A solution could be to use a password manager.
With a password manager you will be able to create a unique and strong password for every account you have. When you use a password manager, the only password you will need to remember is the password to the password manager itself.
According to PCmag.com some of the best password managers are free.
Tip 8 – Use different email addresses for different purposes
Using different email address for different purposes has many benefits.
On DoppelWetten we recommend that you accept that bookmakers can contact you with offers and bonuses. This saves you the trouble of finding them yourself. However, it can be annoying when all the promotional emails get mixed with personal or professional email.
Hence, it is recommended to set up an email account for Matched Betting.
From a safety perspective it is also a recommended to use different email addresses for different purposes. For example, if you receive a phishing email claiming to be from your bank to an account only used for Matched betting, then you know it is fake and should be deleted immediately.
Tip 9 – Consider using different usernames
On many bookmaker sites you have the opportunity to create your unique username rather than using your email address as a username.
It is a good idea to use different usernames for different sites. If anyone want to get access to your accounts, they now have to guess both the username and password.
Another benefit of a password manager is that it also remembers usernames.
Tip 10 – Don't take the (click) bait
Click bait is not only those videos or articles with catchy headlines and limited content.
Click bait also refer to links in emails, messaging or social media apps. They do their best to appear secure, which will increase the likelihood of you clicking on them. If you do happen to click on such a link they will either hope to trick you into giving out sensitive information like bank account log in details or automatically download malware to your computer.
Don't click links in emails or text messages unless they come from a source you know is secure. But even then, be cautious.  Your trusted source might have been compromised. You can always contact the source in another way and ask if they actually sent that email. They will also be interested to know if malicious emails are pretending to be from their organisation.
The same goes for links on social media sites, even in posts that seem to be from your friends. If a post seems unlike the style of your social media friend, it could be click bait.
Share your stories
If you would like to add any of your own experiences, please share your story in the Forum.
One helpful Doppelwetten member recently reached out to us as he had a bad experience with a bookmaker.
By sharing his bad experience, we are able to warn you and others and thereby help you stay safe while Matched Betting.